The Flyers made a new addition Monday and it's not a goalie.
Meet "Gritty," the team's mascot who was introduced at the Please Touch Museum's Hamilton Hall.
"Gritty" marks the second mascot in team history, following "Slapshot."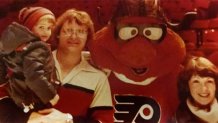 "Gritty" has some excellent features. The eyes really grab you, the beard is in playoff form and he looks like he could throw a mean hip check.
Sports
In partnership with NBC Sports Philadelphia
Jakub Voracek was a bit blown away at first.
"I was looking in the mirror," Voracek said Saturday to NBC Sports Philadelphia's Taryn Hatcher.
"Jake in April or March with long hair and a long beard."
Like Voracek put it, mascots are great.
Welcome to Philadelphia, "Gritty." We can't wait to see you at the Wells Fargo Center. You'll fit in just fine, especially if you yell "SHOOOOOOOOT!" when Claude Giroux has the puck on the power play.
"Gritty" joins an impressive group of Philadelphia mascots, highlighted by Soul Man (just kidding, the Phillie Phanatic clearly leads this mascot brethren):
• Phillie Phanatic (Phillies)
• Gritty (Flyers)
• Swoop (Eagles)
• Franklin (Sixers)
• Phang (Union)
• Soul Man (Soul)
Gritty even has its own Twitter. Here are reactions to the mascot from social media.
More on the Flyers
Copyright CSNPhily