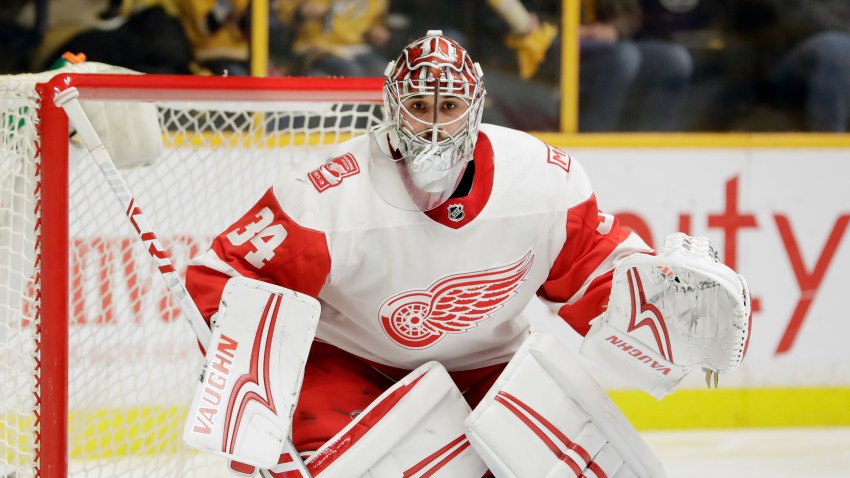 With injuries to Brian Elliott and Michal Neuvirth, the Flyers wasted no time in finding a competent goaltender.
General manager Ron Hextall acquired Petr Mrazek from the Detroit Red Wings late Monday night in exchange for a conditional fourth-round pick in 2018 and a conditional third-round pick in 2019. According to a league source, the Flyers were also in discussions with Toronto regarding goaltender Calvin Pickard, but ultimately settled on Mrazek.
The Red Wings will retain half of Mrazek's $4 million salary in the deal, according to The Athletic's Craig Custance, leaving the Flyers with a reasonable $2 million cap hit. Mrazek is a restricted free agent at the end of this season.
Philadelphia Flyers
Complete coverage of the Philadelphia Flyers and their rivals in the NHL from NBC Sports Philadelphia.
The conditions for the two draft picks the Flyers traded away, as reported by TSN's Bob McKenzie, are as followed:
•For the 2018 fourth-round pick, if the Flyers make the playoffs and Mrazek wins five regular season games, it becomes a third-round pick. If the Flyers advance to the conference finals and Mrazek wins six playoff games, it becomes a second-round pick.
•For the 2019 third-round pick, the Flyers must re-sign Mrazek for the pick to convey to Detroit.
As a backup to Jimmy Howard, Mrazek has appeared in 18 games this season with an 8-7-3 record, a 2.89 GAA and a .910 save percentage.
In January, Mrazek posted back-to-back shutouts against the Blackhawks and the Devils before the Flyers snapped Mrazek's shutout streak at 145 minutes and five seconds in a 3-2 overtime loss.
Hextall had reportedly turned down Mrazek for a third-round pick just last week, according to Helene St. James of the Detroit Free Press, but that was prior to Michal Neuvirth's injury Sunday against the Rangers.
Mrazek is expected to join the Flyers Tuesday and back up Alex Lyon for Tuesday's game against the Montreal Canadiens.
Copyright CSNPhily