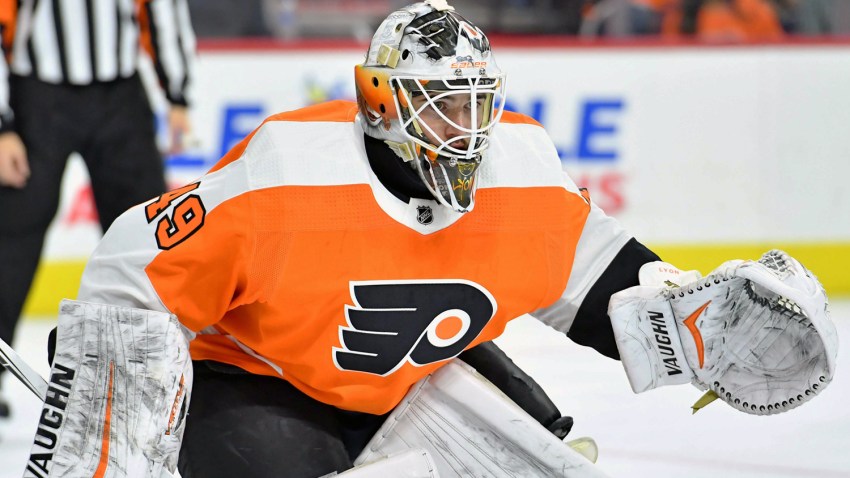 We're just 15 games into the season and to put the Flyers' crazy goaltending saga into perspective, the team's No. 1 netminder right now is a player who wasn't with the team during training camp and was claimed off waivers after spending all of last season in the AHL.
Cal Pickard is expected to make his second straight start tonight in Arizona after Brian Elliott left Sunday's practice early holding his head after he was bowled over by Travis Konecny. As of Monday morning, the Flyers hadn't disclosed anything regarding Elliott's condition, but apparently he's not well enough to serve as a backup.
With Elliott and Michal Neuvirth both unavailable the Flyers recalled goaltender Alex Lyon from the Lehigh Valley Phantoms and have placed Neuvirth on injured reserve retroactive to Oct. 30 when he backed up Elliott in the Flyers' 3-2 win over the Anaheim Ducks. The Neuvirth move was made so the Flyers could open up a roster spot for Lyon.
Philadelphia Flyers
Complete coverage of the Philadelphia Flyers and their rivals in the NHL from NBC Sports Philadelphia.
Ron Hextall said Neuvirth is about four days away from returning to the team from an undisclosed injury that forced him to miss last Thursday's game against the Kings.
However, once the injury-prone Neuvirth is cleared to return, it's difficult to know how much he can be relied upon to help solidify the position now that he's missed time following another setback.
Why Alex Lyon?
He has previous NHL experience having filled in admirably for Neuvirth and Elliott last season with a 4-2-1 record and a .905 save percentage. Through the first month of the AHL season, Lyon has also been the Phantoms' most reliable goaltender with a 2.68 goals against average and a .934 save percentage in three appearances.
If any player can handle the unpredictable drama surrounding the Flyers' goaltending position, it's Lyon. He made his NHL debut in relief of Neuvirth on Jan. 31 of last season, and proceeded to earn his first NHL victory in relief of an injured Neuvirth on Feb. 18.
As for Carter Hart, the Flyers' top goaltending prospect is still trying to navigate through his first season of professional hockey. Through six games, Hart has struggled with a 3.77 goals against and a .882 save percentage.
Until Elliott and/or Neuvirth is ready to return, the Flyers will now have to lean on Pickard, who has allowed at least four goals in his three starts with the Flyers, a team with an .867 save percentage - by far the worst in the league.
Click here to download the new MyTeams App by NBC Sports! Receive comprehensive coverage of your teams and stream the Flyers, Sixers and Phillies games easily on your device.
More on the Flyers
Copyright CSNPhily