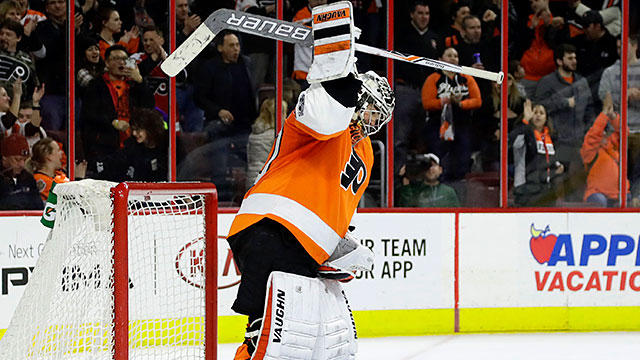 Throughout the offseason, we'll ask questions about the Flyers to our resident hockey analysts and see what they have to say.
Going End to End today are CSNPhilly.com producers/reporters Tom Dougherty, Jordan Hall and Greg Paone.
Philadelphia Flyers
Complete coverage of the Philadelphia Flyers and their rivals in the NHL from NBC Sports Philadelphia.
The question: Do you trust Michal Neuvirth as the No. 1 goalie and who should the Flyers pursue in free agency?
Dougherty
Do I trust Michal Neuvirth as the No. 1? I do not and I've made that perfectly clear before. I believe the Flyers made a mistake signing Neuvirth over Steve Mason, but that is where we are. Going forward with the presumption Vegas will stay away from Neuvirth - or the injured Anthony Stolarz - in the expansion draft, Neuvirth will be the Flyers' No. 1 goalie.
Neuvirth is too unreliable to be depended on as a team's No. 1 netminder. I think that is why he signed another short-term contract. Sure, it aligns with general manager Ron Hextall's vision and desire to have two goalies on short-term deals as placeholders. But Neuvirth's injury history is too long for any team to commit to him on a long-term contract. I don't believe he would have fetched anything longer than three years on the open market - and that is not even taking into account his performance last season.
In 2016-17, Neuvirth sported the NHL's worst save percentage at .891. His 2.82 goals-against average was 33rd among qualified goalies (minimum 27 starts). This is not a Mason-Neuvirth debate - we've had that before. This is about Neuvirth. He was too inconsistent this season and failed to put together any consistent stretch. Even in February, when head coach Dave Hakstol started him in nine of the team's 11 games, Neuvirth did not show any signs of being able to grab a hold of the Flyers' No. 1 job. He had an .890 save percentage during February and a 2.56 goals-against average.
Hextall made it clear during the team's breakup day that he still believes platoons can work - despite it not working this season and other teams that used it in the past moving on from that philosophy. Since the Flyers' crease again will likely be split, it is a safe assumption that Mason is moving on too. He said he's open to returning, but not in a platoon situation. Hextall has said he hasn't closed the door on Mason.
So now the question turns to who will be the other goalie in 2017-18. I don't believe it will be Stolarz. Despite a solid showing in limited action with the Flyers, Stolarz had a mediocre 2016-17 season with the Lehigh Valley Phantoms, and I don't believe the Flyers view him as the future in net. That will be Carter Hart or Felix Sandstrom. Alex Lyon might be ahead of Stolarz, too. Stolarz's injury doesn't help his cause, either. He'll have to show he's fully healthy in camp. I don't think Hextall will bank on that. He'll sign a free-agent goalie.
There are three names I imagine Hextall will target this summer: Ryan Miller, Jonathan Bernier and Brian Elliott. All three match with the short-term criteria Hextall is looking for. Miller and Elliott each have had previous experience serving as a No. 1. Miller was once one of the league's top-tier goaltenders, but he's now 36 and no longer the same goalie. Bernier was once a Los Angeles Kings prospect with a bright future, but he never panned out as projected. He's been a serviceable backup with the Maple Leafs and now the Ducks.
These are the types Hextall will explore this summer. My early money is on Bernier.
Hall
Let's assume the Flyers don't re-sign Mason (but don't count that out entirely).
I genuinely believe Neuvirth will have a rebound season and look more like the goalie from 2015-16.
My only concern is his health. Neuvirth seldom stays injury-free for a full season.
And that's where things can get tricky for the Flyers if Hextall doesn't sign an experienced goalie this offseason for insurance purposes.
I would like to see the Flyers rely on Neuvirth and Stolarz, who the Flyers need to trot out much more often as it's time to see what the 23-year-old can do in a larger NHL sample size.
But, again, if Neuvirth gets hurt, then the Flyers have Stolarz and probably the 24-year-old Lyon, who is a restricted free agent this offseason and was playing at Yale a little over a year ago.
With the volatility of Neuvirth's health, Hextall should and will likely sign a veteran netminder for cheap and short term - someone that can handle the job if injuries arise and prevent the organization's young goalies from being totally thrown into the fire.
None of this will impede the development of Stolarz and company. Because at the end of the day, they'll be needed, just like an insurance policy is needed in net for the Flyers.
However, don't be surprised to see Neuvirth come out strong in 2017-18. He's more than anxious to prove himself after last season.
Paone
My answer to this question doesn't necessarily have to do with Neuvirth's talent. I do think he is a talented goaltender, but much like with every other goaltender in the league, he has his flaws. And some of those flaws are more prevalent then others. For example, he, like the rest of the Flyers, was incredibly inconsistent this season. Hence the career-low numbers, which make the timing of his in-season contract extension curious.
But Neuvirth's biggest flaw is a glaring one that's been an anchor tied to his entire career -- his inability to stay healthy. The unfortunate story arc of the former second-round draft pick's career has been that basically whenever he's had a chance to become a No. 1 goalie in the league, he gets injured. It's happened in both his seasons in Philadelphia thus far. Remember that knee injury at the end of 2015-16 right as the Flyers were making their push to the playoffs? Or another knee injury early on this past season that cost him several weeks?
The tendency to be injured is why Neuvirth just can't be trusted to be the Flyers' No. 1 netminder and carry a bulk of the games this coming season. Hextall knows his players, so he surely knows that he needs a capable 1-B option beside Neuvrith. And, yes, I say 1-B option because I do believe we're heading in the direction of another goaltending share like there was between Neuvirth and Mason the past two years. And I have a gut feeling that it won't involve Anthony Stolarz or any of the Flyers' other goalie prospects just yet.
Hello, free agency.
This free-agent signing would be a short-term one. Ben Bishop, who recently was traded to Dallas and then inked a six-year extension with the Stars, was looking for term. So he was never a real option anyway.
Mason, Miller and Elliott are the biggest names on a now even thinner free-agent market. We know Mason's story here and signs currently point to a mutual parting. And Miller and Elliott don't do anything for my tastes, personally.
I think Bernier is the guy to zero in on here. Remember, Hextall and goalie coach Kim Dillabaugh are very familiar with Bernier as all three were together in Los Angeles several years ago. Another goalie who I think could be an interesting move is New Jersey's Keith Kinkaid. I know his record wasn't great this season (8-13-1), but he had an awful Devils team playing in front of him. But with that awful Devils team in front of him, he still put up a 2.64 goals-against average and .916 save percentage. Yes, he beat the Flyers three times, too. But I like the way he plays. He's a fighter in net and doesn't give up on plays. That's such an important quality for a goalie to have.
Only one thing is for sure here: With the expansion draft and free agency rapidly approaching, we won't have to wait awfully long for answers to these goalie questions.
Copyright CSNPhily