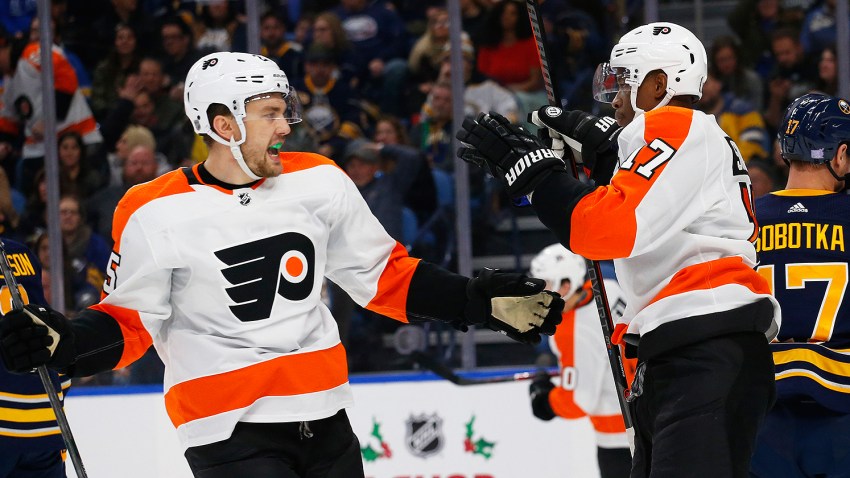 Updated: 12 p.m.
Chuck Fletcher's evaluation is about to heat up.
Philadelphia Flyers
Complete coverage of the Philadelphia Flyers and their rivals in the NHL from NBC Sports Philadelphia.
The Flyers (11-12-3) open a five-game road trip Saturday when they visit the Sabres (17-8-4).
Sean Couturier is out of the lineup with a lower-body injury and is day-to-day.
Let's look at the essentials:
• When: 1 p.m. ET with Flyers Pregame Live at 12:30 p.m.
• Where: KeyBank Center
• Broadcast: NBC Sports Philadelphia
• Live stream: NBCSportsPhiladelphia.com and the NBC Sports MyTeams app
• Fletcher, the team's new general manager, got a taste of the Flyers at home Thursday.
Now he'll get closer to them on the road.
After his introductory press conference Wednesday, he mentioned how he was looking forward to the trip.
I want it to work, I want to be successful with this group. It's not threats or anything, but if we don't have the solutions in-house, we'll look outside. There's no timetable for any of that, other than we're just trying to get better.

It will be great next week going on the road, Western Canada, we'll have time to go for some dinners, we have some back-to-backs, you have some late-night flights and you start to see people in their element.
• The Flyers are coming off overtime heartbreak in which they erased a two-goal deficit in the third period only to lose 10 seconds into the bonus stanza, 4-3.
They haven't won consecutive games since Nov. 5-10, when they took three straight.
The Sabres, on the other hand, have lost four in a row after ripping off a 10-game winning streak. Buffalo is in third place of the impressive Atlantic Division and has won 10 one-goal games, tied for second most in the NHL.
• The only consistent offensive production for the Flyers has come from the first line of Claude Giroux, Couturier and Travis Konecny.
The Flyers need more from the rest, especially Nolan Patrick and James van Riemsdyk.
Patrick has no points over his last nine games, while van Riemsdyk is scoreless in his past six contests.
Also, keep an eye on the Flyers' top power-play unit. Wayne Simmonds replaced van Riemsdyk on the No. 1 man advantage during the third period of Thursday's game.
The Flyers' power play is 6 for 56 since Oct. 13, worst in the NHL at 10.7 percent.
Click here to download the new MyTeams App by NBC Sports! Receive comprehensive coverage of your teams and stream the Flyers, Sixers and Phillies games easily on your device.
More on the Flyers
Copyright CSNPhily