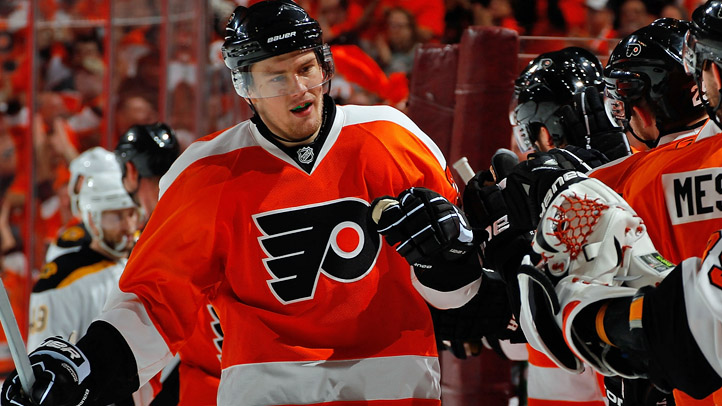 It looks like a group of Flyers have headed from the ice to the movie screen.
Flyers forwards James van Riemsdyk and Scott Hartnell, defenseman Matt Carle and injured winger Ian Laperriere are in the new Judd Apatow movie, according to the Flyers.
So how did a bunch of Fly Guys wind up in Apatow (a native Long Islander)'s movie?
The Flyers sort out how the guys got hooked up with roles Apatow's This Is Forty, which also stars Megan Fox, Paul Rudd, Jason Segel and others:
Laperriere is friends with Apatow who has produced box office hits Forgetting Sarah Marshall, The 40-Year-Old Virgin, Knocked Up and Superbad.

"We had a good time on the set," said Laperriere. "Very nice people on the set. I have a great respect to these actors; they put a lot of time in to these scenes."

In one scene, the four were asked to dance.

"I will award myself the title of worst dancer," said Laperriere. "JVR and Hartsy had some moves. Matty Carle is a little more my type; a stiffer dancer just like me. But we were all sportsmen and had a lot of fun."
The players apparently had speaking roles also in the movie but that dancing is what inspired this JVR tweet:
"Can't believe @dooda1414 (Lappy) gave me some credit on my dance moves #2leftfeet"
So will the guys be giving up their day jobs?
"I don't think I'll be quitting my day job anytime soon, but had a blast," van Riemsdyk told PhiladelphiaFlyers.com.
This Is Forty is set for release in Dec. 2012.