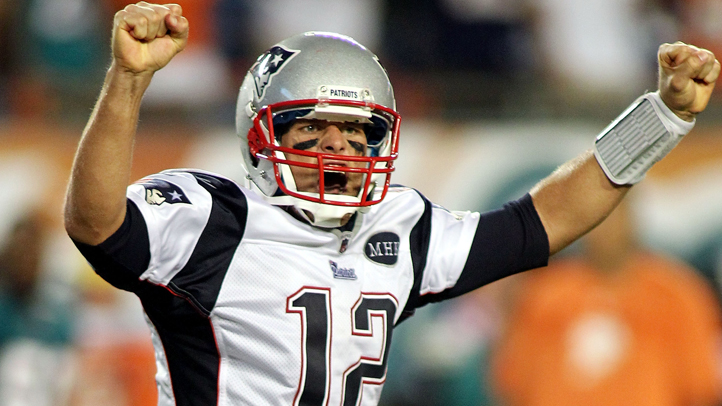 We're gonna cover fantasy football all season long here at Bird's Nest by answering five questions every week about various fantasy-related topics. FLESH FOR FANTASYYYYYY. Let's roll.

1. Is Tom Brady going to do this every week? Boy it seems that way, doesn't it? It's the perfect fantasy situation: a Hall of Fame QB at the peak of his powers playing with a defense that's just bad enough to keep him passing all game long. And the Pats schedule isn't exactly a rough ride: They get the Dolphins twice, a Bills defense that's fresh from a shootout with Oakland, a decimated Cowboys secondary, the DOA Chiefs, the Manning-free Colts, and plenty more juicy targets. Brady will be throwing like crazy all year long, and the huge passing numbers league-wide the past two weeks make it feel like the Juiced Football Era is here to stay. Brady is currently on pace to throw 56 TD passes and rack up the first-ever 7,000-yard passing season. He probably won't reach either of those insane numbers, but holy smokes he's gonna come close. Fear him.

2. Jamaal Charles is done for the year and I have Thomas Jones. I'm set for life, yes? No. Jones is gonna split carries with Dexter McCluster because Todd Haley hates you. But even worse, this Chiefs team is so bad, so clearly already packing it in, that their offense will be bad all season long. Jones and McCluster will have occasional bright moments, but don't expect studliness from any KC player the rest of the way. That team is done, and so is its fantasy potential.

3. Between Charles and Mike Vick and all those Cowboys getting injured, are we seeing the effects of the lockout on player health? Will this happen every week? No. I don't think Charles' ACL got torn apart because he didn't have OTAs. That's as freakish an injury as you'll find. And Vick is always an injury waiting to happen. What you saw in Week 2 was one of those horrible Battle Royale weeks, where everyone goes down and every fantasy team suffers. Except the one with Tom Brady. Stupid handsome Brady.

4. When is Jermichael Finley gonna score eight touchdowns in one game? It's coming. Patience. I know he hasn't scored yet. Such are the embarrassing riches of the Packer offense that Aaron Rodgers can spread it around and cause his targets to be inconsistent from week to week. But when they hit, they're gonna hit.

5. Kenny Britt! I know! I told you to fear him.