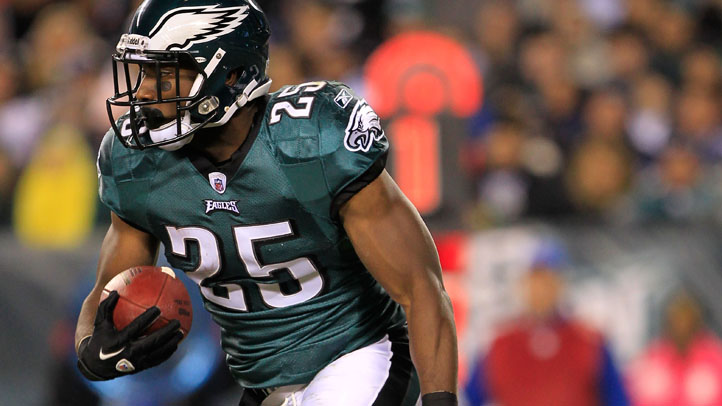 We're gonna cover fantasy football all season long here at Bird's Nest by answering five questions every week about various fantasy-related topics. FLESH FOR FANTASYYYYYY. Let's roll.

1. Is LeSean McCoy the best running back in fantasy football? Right now, only Adrian Peterson stands between Shady and the mantel of Best Fantasy RB In The World, a title held by the likes of Marshall Faulk, Priest Holmes, LaDainian Tomlinson, and other fantasy luminaries. As of right now, no running back has more yards per game than Shady, and only Peterson has scored as many touchdowns as Shady (10). But Peterson has played in eight games versus Shady's seven, which means that Shady is giving you better per-game production. And the good news for McCoy doesn't end there, because the Eagles have finally started to gel, and Andy Reid has finally realized that getting McCoy the ball is the key to reducing turnovers and stabilizing the offense. McCoy has 48 carries in the past two games alone, and he should continue to get lots and lots of touches as the season goes on. One other interesting thing of note: Mike Vick has NO rushing touchdowns this season, so he has yet to vulture any of Shady's scores. The man is rolling.

2. What on Earth has happened to Philip Rivers? I don't know. And as a Rivers owner, I would very much like to see Congress launch a special investigation that results in an 800-page brief that outlines precisely why Laserface's game has turned into a giant steaming growler on the hood of a 1986 Pontiac Fiero. It's been painful to watch, and it's not as if he doesn't have anything to work with. His offensive line is intact. He's had Antonio Gates back for two weeks now. He's had Vincent Jackson all season long. Yet for whatever reason, Marmalard has become a turnover machine. He claims he isn't hurt, which only makes it more distressing. Maybe this is the inevitable result of working under Norv Turner for any prolonged stretch of time. FIX YOURSELF, RIVERS. You are costing my grandchildren their inheritance.

3. Are Panthers running backs worthless now? Despite the fact that DeAngelo Williams got a fat extension in the offseason, it's Jonathan Stewart who has outscored him in most leagues. But Stewart has only two rushing TDs to his credit, and that's because Cam Newton has vultured all of the team's rushing TDs. Newton has become a touchdown vacuum. Virtually every Carolina score goes through him now, making him perhaps the greatest rookie player in the history of fantasy football. Don't expect Williams or Stewart to suddenly start scoring in bunches. It's all Newton from here on out.

4. Will Wes Welker get back to his insane early-season production? No. Defense have decided that the key to shutting down the Patriots is to cover Football Pedroia at all costs, and it's working. Both the Steelers and Cowboys were able to keep Tom Brady in check by limiting Welker's touches. Not every team can cover as well as those two, but the strategy is written in stone now. Expect Gronk and the other Pats receivers to benefit from the extra attention paid to Welker.

5. Whoa hey, Brent Celek is useful again! I know! Who'd have guessed?