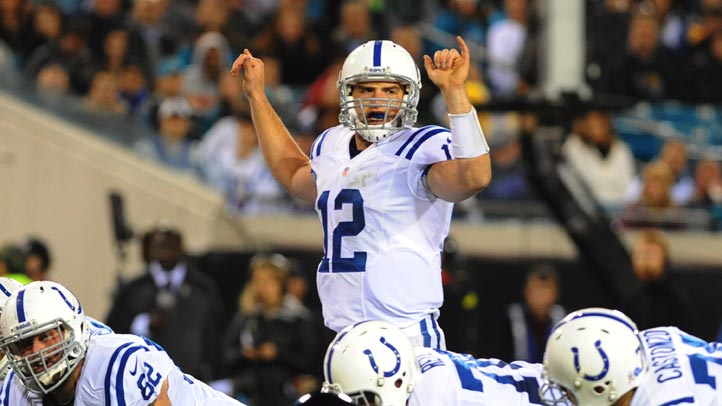 We're going to cover fantasy football all season long here at Birds' Nest by answering five questions every week about various fantasy-related topics. Let's roll.

1. Should I start Andrew Luck against the Texans?
If you're asking at this stage in the proceedings, then your No. 1 starter must be injured (Robert Griffin III, perhaps?). Here's the thing: we got Philip Rivers and Andrew Luck during our Fantasy Draft, rode Rivers for two weeks, and have been on the Luck train ever since. He had a tough week against the Titans but has put up impressive numbers in just about every other outing. Yes, Luck throws a lot of picks but he also throws a ton of touchdowns, and he's an underrated runner, too. And we saw Monday night that the Texans' defense ain't what it was earlier this season.

2. Speaking of Rivers, is he finally back?
We wouldn't go that far. Yes, the Chargers went into Pittsburgh and embarrassed the Steelers, but that had more to do with self-inflicted mistakes than a dominating effort. Rivers finished with three touchdowns, but he completed just 21 of 41 passes for 200 yards. Not exactly franchise quarterback numbers. Then again, Rivers faces the Panthers, owners of one of the league's worst defenses, this week. If you're desperate (like, say, Norv Turner), we guess Rivers' is an option.

3. So the Ravens' defense is done, right?
It appears so, yes. And this has virtually nothing to do with linebacker Ray Lewis, who was lost earlier this season to an arm injury. His return (could be as early as this week) won't magically fix this unit's inability to stop either the run or the pass, something that was on full display as Kirk Cousins led the Redskins to a game-tying touchdown late in Sunday's game. The only redeeming quality from a fantasy perspective: if Ed Reed gets a turnover (and if there is one he's almost certainly on the receiving end), there's a good chance he's taking it to the house.

4. Is there anything redeeming about the Chiefs-Raiders matchup?
If you're a degenerate gambler or play fantasy football, absolutely. Otherwise, absolutely not. Assuming you're the former: Raiders tight end Brandon Myers might be one of the league's most underrated players. We dumped Jermichael Finely for him and he hasn't disappointed. Unlike, say, teammate Darren McFadden, Darrius Hewyard-Bey, Carson Palmer and … well, just about every other offensive player. As for the Chiefs, there's Jamaal Charles and … that's it. The defense is pretty good, too, but like everything else in this matchup, just way too unreliable.

5. Which Eagles player could have a breakout performance against the Bengals? We went with the obvious choice last week -- running back Bryce Brown -- but the Bucs' second-ranked run defense shut him down. This week, we're going with Nick Foles, even though the Bengals' lead the league in sacks. Foles gets better each week and while Cincinnati is playing for a playoff spot, the Eagles are playing for jobs. In addition to Foles, we like Brown and Jeremy Maclin to have good showings, too.