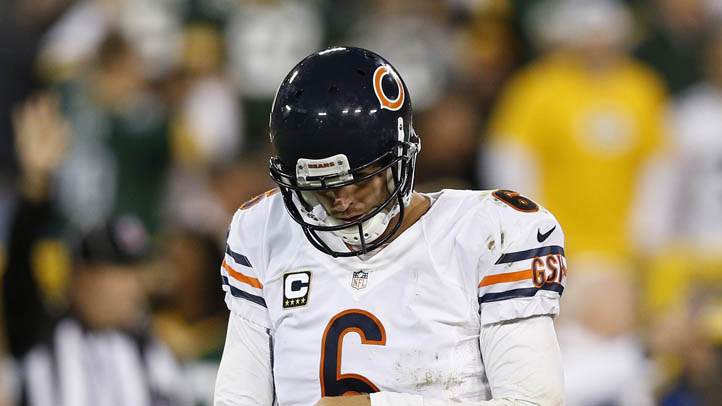 We're going to cover fantasy football all season long here at Birds' Nest by answering five questions every week about various fantasy-related topics. Let's roll.

1. Is Jay Cutler really that bad? Well, put it this way: everybody tried to blame offensive coordinator Mike Martz for Cutler's shortcomings the last few seasons so they got rid of him. The new offense under Mike Tice sure looks a lot like what we've seen previously: spotty pass protection, sacks and a ton of poor decisions from Cutler. It doesn't help that he likes to embarrass his teammates on the field it the middle of a game but the reality is this: he's not Caleb Hanie. When he has protection and the Bears aren't playing from way behind, he's an above-average NFL quarterback with legitimate weapons around him. He's probably the third best quarterback in his division and certainly not a guy you'd feel comfortable starting in fantasy, but it could be worse. We think.

2. Pick one: Eli Manning or Cam Newton in Thursday night's Giants-Panthers game? Eli threw for more than 500 yards last week and Cam set a career best with 71 rushing yards. The two teams face off this Thursday and Vegas likes New York (-1.5). We like New York too … to win, but we're taking Newton for fantasy purposes. He's a multi-dimensional threat who poses unique problems for opponents. While Manning is "mobile in the pocket," he's no threat without receivers. Newton, on the other hand, has the special ability to make something out of nothing while limiting turnovers (something Michael Vick struggles with).

3. Should I start Redskins WR Josh Morgan against the Bengals? This isn't a joke, especially if Pierre Garcon remains sidelined against the Bengals Sunday. Morgan is best known for temporarily losing his mind in last week's Rams' game and incurring a 15-yard unsportsmanlike conduct penalty after throwing the ball at St. Louis cornerback Cortland Finnegan. Before that, Morgan was best known being from Washington, DC. But he's also one of the few (relatively) legitimate pass-catching options for Robert Griffin III which makes him (relatively) valuable this weekend.

4. Is Tim Tebow no longer a viable fantasy option? It wouldn't appear so, would it? After the most improbable season ever in 2011, Tebow has been run out of Denver and now finds himself buried on the bench in New York. It sure seemed like Jets coach Rex Ryan had every intention of playing Tebow 15-20 snaps a game as the team's wildcat specialist. Instead, he's seen scant work, playing just three snaps in New York's loss at Pittsburgh Sunday. In fact, through two games, Tebow has yet to throw a pass. We can't imagine worse fantasy options (which means, of course, that Tebow will promptly be Tebow-tastic for the rest of the season).

5. Which Eagles player should I start in Week 3? Philly faces the team just ahead of them on the "wait, how can they still be undefeated" list: the Arizona Cardinals. And while the Cardinals have any number of issues at quarterback, they're a lot like Philly in that they've played some winning football of late. No, not just the 2-0 start -- the Cards' are 7-1 joining back to Week 12; the Eagles, meanwhile, are 6-0 going back to Week 14.

Through two weeks, the Cardinals have been good against both the run and the pass. But unlike the Patriots, who still seem to be searching for a big-play deep threat, Philly has DeSean Jackson and Jeremy Maclin to occupy Arizona's cornerbacks. Which is why we like Brent Celek to have a big day.