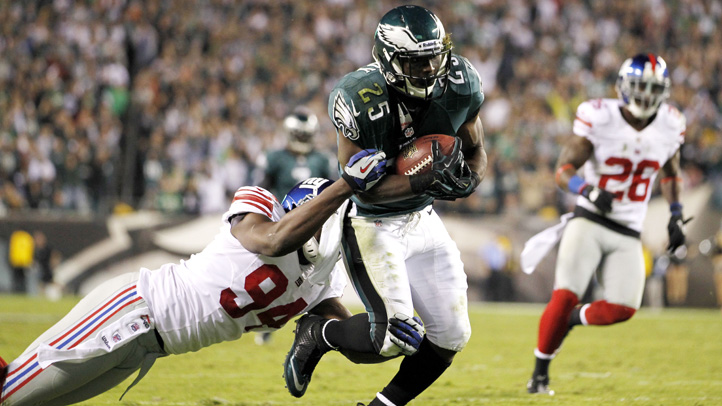 We're going to cover fantasy football all season long here at Birds' Nest by answering five questions every week about various fantasy-related topics. Let's roll.
1. Will Kevin Kolb give me anything in Thursday night's game? The Cardinals play the Rams in what, on paper anyway, looks like the most boring matchup of the season. But Arizona's one of three renaming unbeaten teams and the 2-2 Rams have already equaled last year's win total. Kolb, meanwhile, finally appears to be putting it all together. After his epic struggles in 2011 and the 2012 preseason, the former Eagle finally looks like a serviceable NFL quarterback.
He still isn't playing up to the $63-million extension he signed with the Cards last summer, but in four appearances (three starts) this season he's completed 63 percent of his passes, and has seven TDs against just two interceptions. He's not a fantasy points machine, but the fact that he's even on the field after all that transpired the previous 13 months is a Fantasy Island type miracle.
All of this is a long way of saying: if you don't have a choice, Kolb isn't a bad one for Thursday's game against a pretty good the Rams defense. He's shown the ability to throw touchdowns and limit turnovers, but he's not going to rack up a lot of yards in the process.
2. It's Broncos-Pats week -- who has the best chance for success: New England receivers or running backs? Well, here's what the coach for New England's last victim, the Bills, had to say after Sunday's 52-28 blowout loss: "To be honest with you I don't believe we've had a guy in the three years I've been here that can cover (Wes Welker) one-on-one for an entire ball game," Chan Gailey said. "He can get open. That's why he made the Pro Bowl so many years." According to Football Outsiders, the Broncos rank 19th against the run. The Bills were 13th before the Pats debacle. We're going with the Pats receivers on this one.

3. Can the 'Skins' Morris run against the Falcons? Absolutely. Amid all the Robert Griffin III hoopla this little fact gets lost in the mix: the Redskins have one of the league's best running games. Part of that is because of RGIII but a bigger part of that is rookie running back Alfred Morris. He's among the NFL's most efficient runners and, as it turns out, despite all the Falcons' success this season, their run defense is among the league's worst.
4. Pick one: Sanchez, Tebow or that run defense? Ouch. This is like having to choose which cruel and inhumane way to die. The Jets are an absolute mess from offense to defense to special teams and it starts with the head coach. If "Tebow, Sanchez or that run defense" are the options you're presented with, our advice would be to quit fantasy football altogether and find something less stressful to do with your time: bird watching, coin collecting, something along those lines. Because if you're stuck in the house Sunday staring at your computer while have any member of the Jets on your fantasy roster, it'll make for a long fall (both in terms of seasons and distance until you inevitably hit the ground).

5. Which Eagles player should I start in Week 5? Without Troy Polamalu and James Harrison the Steelers defense has gone from great to well below average. Polamalu could return although Harrison seems destined for at least another week on the sidelines. After what LeSean McCoy did to the Giants -- and perhaps more impressive -- Andy Reid's decision to stick with the running game in the second half -- Shady could have another big afternoon against Pittsburgh Sunday.