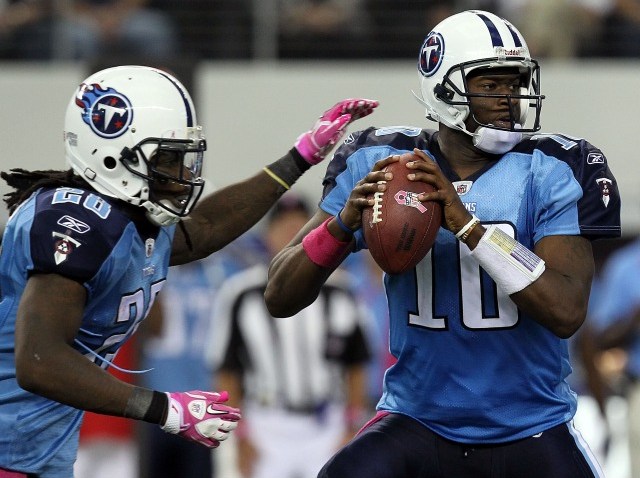 We're gonna cover fantasy football all season long here at Bird's Nest by answering five questions every week about various fantasy-related topics. FLESH FOR FANTASYYYYYY. Let's roll.

1. Will the Chris Johnson fiasco get any better? Nope! And let me just say to you smug owners who had Cop Speed for the past two seasons: YOU EARNED IT. Nothing makes me happier than seeing the tables turn on you. A quick look at the stats give you an idea of just how awful Johnson has been this season: 2.9 yards-per-carry, only one game with more than 53 yards rushing, and one measly TD. It's been a complete disaster, and now there are reports that Johnson is a fatty. Way to go, Cop Speed. Thanks to you, no one will ever hand a running back a contract extension ever again. Anyway, don't expect things to improve with Johnson for the rest of the season. If he can't be in "football shape" after six whole games, then I don't know how ten more helps anything. It's gonna be a grueling death march to the finish. Again, if you owned Johnson the past couple years, I have NO sympathy.

2. Should I pick up DeMarco Murray off of waivers? LIAR. Don't tell me you're in some bush league where Murray is still available to claim. That's a load. Take it from someone who trolled the waiver wire at 3PM on Sunday praying no one had picked up Murray the week before (WRONG). Some enterprising jerk in your league who is NOT you almost certainly grabbed Murray last week and is now guffawing as he counts your money and adjusts his monocle. Lousy waiver wire trolls. They get DeMarco Murray while I'm stuck with Jeff King. NOT FAIR.

3. Is Cam Newton already a better fantasy player than Mike Vick? If you go by the raw numbers, the answer is a definite yes. Newton is already the #2 scorer in all of fantasy, even beating out Tom Brady and Drew Brees thanks to his formidable rushing stats. And Newton is so big and strong that he's nowhere near the injury risk that Vick has become. Also, are you aware that Vick has NO rushing touchdowns this season? It's true! You could almost call him a bust if Chris Johnson's beer gut wasn't blocking your keyboard right now.

4. Should I start Tim Tebow against the Lions? Nooooooooooooooooo. You only get to pull two TDs out of your butt in the final minutes against a winless Miami team. When you're facing Ndamukong Suh, the odds of that happening again drop considerably.

5. Curse you, Peyton Hillis! It's not the Madden Curse so much as it is the Revenge of Jerome Harrison.