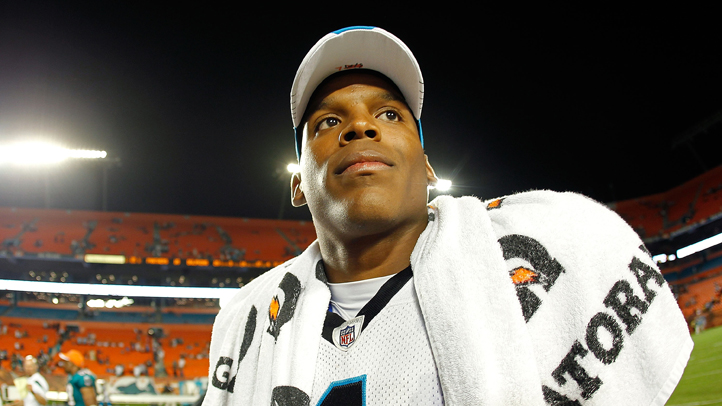 We're gonna cover fantasy football all season long here at Bird's Nest by answering five questions every week about various fantasy-related topics. FLESH FOR FANTASYYYYYY. Let's roll.

1. Can Cam Newton do that, like, every week? No. No, he cannot. Even if Cam Newton does turn out to be your new league leader in smiles, he isn't going to face the Arizona defense every week. Man alive, THAT was a bad pass defense. It's like the Texans secondary and the Cowboys secondary had a baby. Anyway, Cam's schedule gets a bit more rough right away, starting with the Packers next week, a team surely smarting from its abysmal defensive performance in Week 1 vs. New Orleans. But there are plenty of chances down the road for Newton to inflict damage, so long as NFL defensive coordinators haven't solved him by mid-season. I don't like it when fantasy experts tell you to pick up a dude who almost certainly isn't available to be picked up, so all I'll say is that you should sit tight before trading for Cam, or before putting him in your starting lineup permanently. New fantasy studs reveal themselves usually after a full month of play. In other news, play anyone facing the Arizona defense.

2. Which Pats tight ends should I try and pick up off the waiver wire? Aaron Hernandez is the faster of the two, but Rob Gronkowski caught his fair share of passes last night as well (including a TD catch). Whichever one you pick up or trade for or start, be certain that Bill Belichick will make sure the other gets the lion's share of points until you finally decide to take them back out of the starting lineup, then he'll go back to your player, because Bill Belichick hates you.

3. Tony Romo gives me great fantasy points every week, and also manages to blow the game for his team as well (without it impacting his numbers that badly). Is he the perfect fantasy player? He is! I have him on my roster and it was well worth docking four points off his total for the night for that collapse. A Thing of beauty.

4. Can the Buffalo offense keep it up? Ryan Fitzpatrick was a genuinely good fantasy backup last season, so I don't see why he can't become the kind of guy who gives you 25 TDs and makes your choice of QB agonizing each week. I don't think you'll see the likes of Scott Chandler catching 30 TDs, but Stevie Johnson sure seems as good as he was last season. Bills players are not fantasy cancer, to be certain.

5. I fear Kenny Britt. As well you should. Thanks to the Ginger Hammer going easy on him and not suspending him, Britt could end up the #1 wideout in fantasy this year. I'm terrified of him.