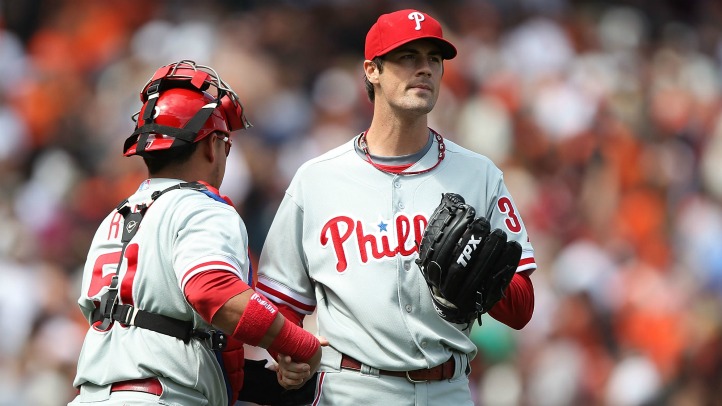 We've reached that sad point in the summer where we can see the end in sight.
It's getting darker earlier, the temperatures aren't pushing triple digits and back to school sales are going on in every store you see. Transitioning back to non-summer life is never easy and never fun, although the Phillies are making it easier.
Plenty of us would like to just fast forward to October and get the playoffs started. It's hard to remember a time when there was any doubt that the Phillies would be taking part in the postseason and their top spot in the National League has also been known for quite a while, so why not just get things started already?
Sadly, time travel has been ruled impossible and we will have to play out the string even though the Phillies have very little to gain from the final weeks of the regular season. Since the games are going to go on, you might as well have things to keep your eyes on while the Phillies round into shape for a World Series push.
Here are five things that should keep you busy until the bunting finally appears at Citizens Bank Park:
1. Cole Hamels' Shoulder - The MRI this week showed no serious damage to Hamels' left shoulder, a welcome non-discovery for every Phillies fan. That said, a dead arm isn't exactly the best news to hear about one of your starting pitchers, so Hamels bears watching the rest of the way.
He doesn't need to dominate to quiet concerns, he just needs to make his starts and avoid any disastrous outings. If he does that, there's not much reason to fret about Hamels' fitness for battle.
2. Roy Oswalt's Back - Second verse, same as the first. More or less, anyway.
Oswalt has looked okay in his two starts back from the disabled list, a positive sign after the way he skidded to the trainer's room back in June. Solid starts the rest of the way would erase any lingering red flags and eliminate the need to worry about Vance Worley starting a big game in October.
3. The Bench - We've covered this one ad nauseam recently, but the next 12 days should prove interesting as the Phillies try to shore up their one remaining weakness. It might seem like a small thing, but it will matter in October.
4. Jimmy Rollins - Rollins has been playing just fine, so that's not a concern. The reason to watch here is for any sign that his energy or health starts to flag down the stretch because replacing Rollins' production at the plate or in the field won't be easy.
5. You Never Know What Might Happen - With Roy Halladay, Cliff Lee, Hamels and Oswalt, there could be a no-hitter around every corner. Maybe someone hits three homers in a game or Hunter Pence decides to slide into every base unnecessarily during a trip around the diamond.
There are negative possibilities as well, but this Phillies team has been so much fun to watch that you probably don't need anyone to tell you why to keep watching. You keep watching the Phillies because they are the Phillies.
Copyright FREEL - NBC Local Media