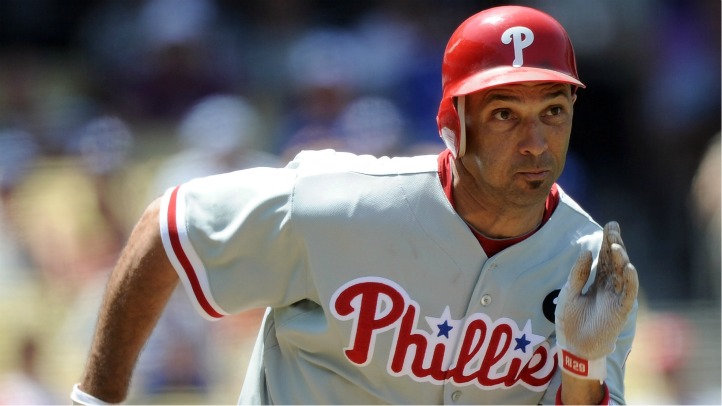 John Mayberry had three hits on Wednesday night to continue his run of strong play over the last two months.
That strong run has created a bit of discussion about who should be starting in left field for the Phillies. Do you go with Mayberry's hot hand or do you stick with Raul Ibanez even though he's been having a generally poor season?
There's reason to think the Phillies should make a change beyond the current snapshot that shows Mayberry playing much better than Ibanez. Mayberry has always had the physical tools to succeed at the big league level, but never got an extended chance to flaunt them at the big league level. He's gotten that chance this season, capitalized on it and should be just entering the prime of his career at 27.
Ibanez, on the other hand, looks like he's out of gas. He's had two good months this year and three abysmal ones with no sign that there's a fix that will make him reliably productive the rest of the way. Maybe he'll get hot again in October, but that's a pretty big gamble to make with a player who has looked as bad as Ibanez has looked this year.
In another season, it is an easy call. You go to Mayberry and think about the long-term health of the team. It's a bit more difficult with a veteran team that has achieved at the Phillies' level with Ibanez in the lineup because there's a feeling that you shouldn't fix something that hasn't hurt the team one bit.
What if you could kill two birds with one stone, though? Moving Ibanez to the bench would give the Phils a better lefty pinch hitting option than they currently have available, even with Ibanez presently scuffling along. We know the Phils are sniffing around for such a bat and that it will be tough to sneak one through waivers past all the teams the Phillies are battling for the title.
It's a nice idea, although ultimately flawed by the fact that swapping Mayberry for Ibanez would actually leave the bench weaker than it is right now. Ibanez is better than Ross Gload, but Mayberry's better overall package of skills make him a more valuable chip off the bench than Ben Francisco during the postseason.
Backward as it sounds, helping the starting lineup at the expense of the bench is counter-productive to winning the World Series for the Phillies. There are going to be playoff games that call for bench manuevers in the late innings and Mayberry helps the Phillies in those spots much more than Ibanez hurts them as part of the starting lineup.
Ibanez doesn't really deserve to play ahead of Mayberry at this point in time, but baseball isn't always a meritocracy and putting your best eight on the field in the first inning isn't always the best way to win a title.
Copyright FREEL - NBC Local Media