Lindsey Vonn made history Tuesday night, becoming the oldest women ever to win a medal in Alpine skiing at the Olympics. On the bobsled track, Bucks County native Jamie Greubel Poser came up short in her effort to add to the bronze she won four years ago.
These are the stories that have happened and will take place in Pyeongchang over the next 24 hours:
Vonn Takes Bronze in Women's Downhill, Italy's Goggia Wins Gold
Italy's Sofia Goggia held off a strong field to win gold in the women's downhill, while Team USA's Lindsey Vonn took bronze, finishing 0.47 seconds behind her rival.
"I gave it my best shot," Vonn said through tears after the race. "And I'm so proud to have competed with so many amazing girls."
Ragnhild Mowinckel of Norway won silver, finishing 0.09 seconds behind Goggia.
Vonn's bronze-medal finish makes history: At 33, she is the oldest female medalist in Alpine skiing at the Winter Games. She will ski again in the combined on Thursday (Wednesday night in the U.S.), going up against teammate Mikaela Shiffrin, who won gold in these Games in the giant slalom.
Team USA's Alice McKennis finished fifth, Breezy Johnson finished seventh and Laurenne Ross finished 15th.
Meyers Taylor Earns Silver, Greubel Poser Falls Short on Bobsled Track
Elana Meyers Taylor and Lauren Gibbs of the U.S. finished second in women's bobsled in Pyeongchang. Their time of 3:22.52 was just 0.07 seconds back from the gold-medal German sled — the closest margin between first and second in any Olympic bobsled race.
Germany's Mariama Jamanka — a winner of exactly zero major international races in her life until now — drove to gold in the event, adding to her country's dominant showing at the sliding track in these Olympics.
Canada's Kaillie Humphries teamed with Phylicia George to get third in 3:22.89.
It was the third consecutive medal for both Meyers Taylor and Humphries. Meyers Taylor won bronze as a push athlete in 2010 and silver as a driver in 2014; Humphries won gold in each of those Olympic races.
The American sled piloted by Jamie Greubel Poser with brakeman Aja Evans finished fifth, 0.13 seconds off the podium. Greubel Poser won bronze in Sochi.
Outside the medal race, teams from Jamaica and Nigeria made history in Pyeongchang. The Jamaican sled became the first women's sled from the country to compete in the games, while the Nigerian women became the first African nation to participate in women's bobsled. Jamaica finished the competition in 19th. Nigeria finished 20th.
Relive the runs on digital platforms.
Russian Skaters Deliver in Women's Short Program

Women's figure skating at the Pyeongchang Olympics was billed as a showdown between Olympic Athletes from Russia Evgenia Medvedeva and Aliona Zagitova, and they delivered Wednesday at Gangneung Ice Arena.

Zagitova set a new short program record with her score of 82.92 to slide into first place, ahead of Medvedeva by 1.31 points. If the 15-year-old Zagitova holds on to the top spot through Friday's free skate, she would become the second youngest women's figure skating gold medalist behind Tara Lipinski, the 1998 Olympic champion.
Canada's Kaetlyn Osmond was in third place after the short program with 78.87 points.
All three Americans to skate in the short program planned to open their routine with triple jumps, and all three stumbled. Bradie Tennell and Mirai Nagasu each fell all the way to the ice — Tennell on a triple lutz to triple toeloop combination, and Nagasu on a her trademark triple axel — while teammate Karen Chen placed a hand on the ice to brace herself coming out of a triple lutz.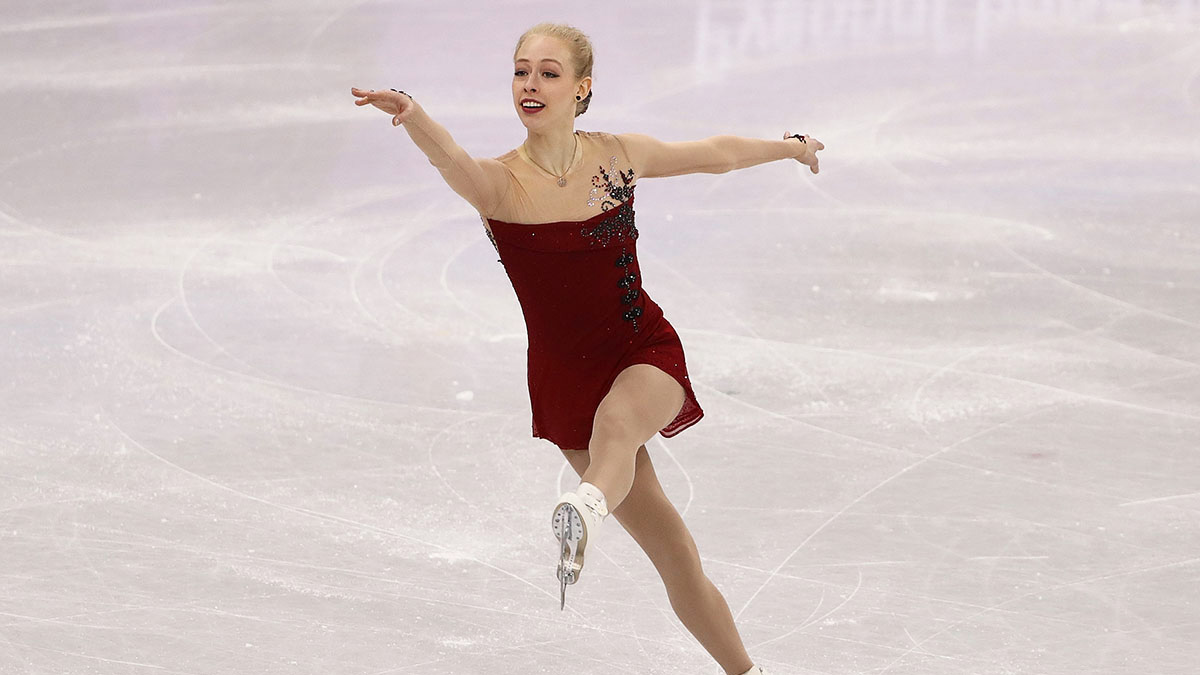 Tennell, Nagasu and Chen will look to keep up with gold medal favorite Evgenia Medvedeva, the 18-year-old Olympic Athlete from Russia who owns two world titles.
U.S. Men's Hockey Team Knocked Out
Pavel Francouz stopped all five shooters and Petr Kouka scored the shootout winner as the Czech Republic eliminated the United States with a 3-2 victory in the quarterfinals Wednesday.
Jan Kovar and Tomas Kundratek scored in regulation for the Czech Republic, which was fresher after winning its group and getting a bye into the quarterfinals. The U.S. looked fatigued after facing Slovakia in the qualification round and was outshot 29-20.
WATCH: Fan Makes Ridiculous One-Handed Catch of Deflected Puck
Team USA's Ryan Donato opened up scoring in the opening period. The Boston Bruins prospect and Harvard hockey player, ripped a wrist shot to score a goal less than seven minutes into the first quarter. It was Donato's fifth goal for Team USA at the 2018 Pyeongchang Winter Games.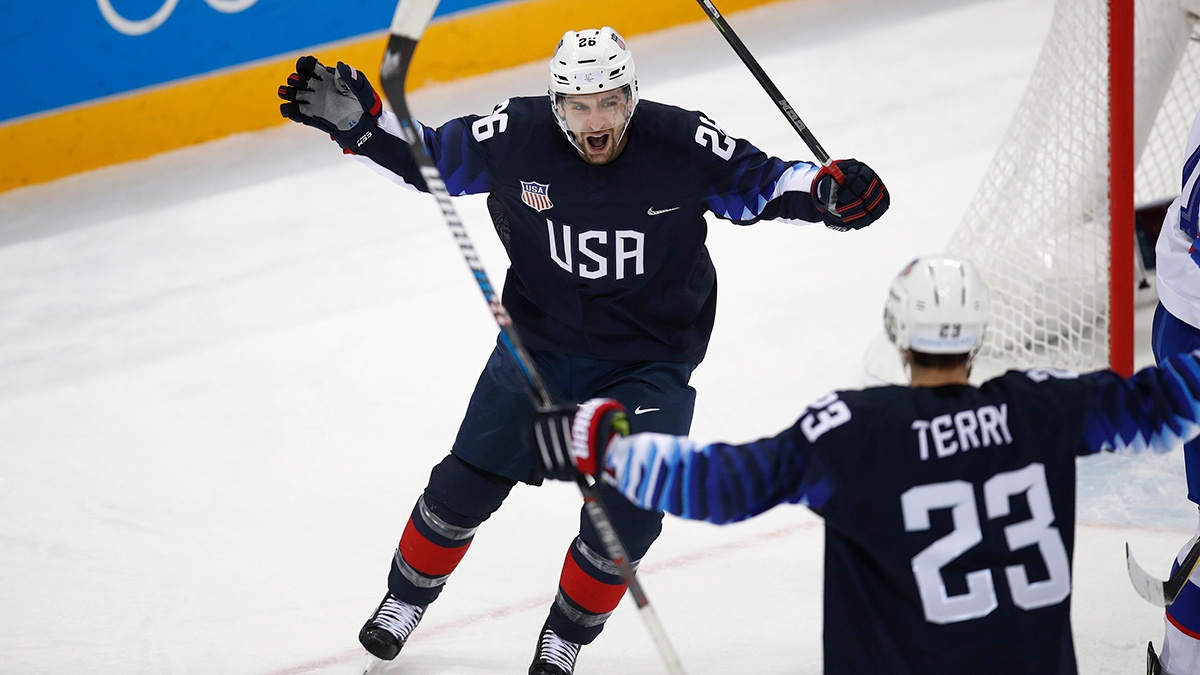 Beside Erie, Pennsylvania's goalie Ryan Zapolski, the team featured four other players with Pennsylvania and New Jersey ties: Bensalem's Ryan Gunderson, Abington's Chad Kolarik, Yardley's Brian O'Neill and Trenton's Bobby Sanguinetti.
Backs Against the Wall, U.S. Women Curlers Fall to Sweden
The United States' women's curling team, needing a win to keep their Olympic hopes alive, fell against Sweden Wednesday at Gangneung Curling Centre and won't advance to the semifinals.
Team USA lost 6-9 after being locked in a tight contest until the final end. Heading into end 10 the match was tied 6-6.
Relive the match on digital platforms or as part of CNBC's coverage at 5 p.m. ET Wednesday.