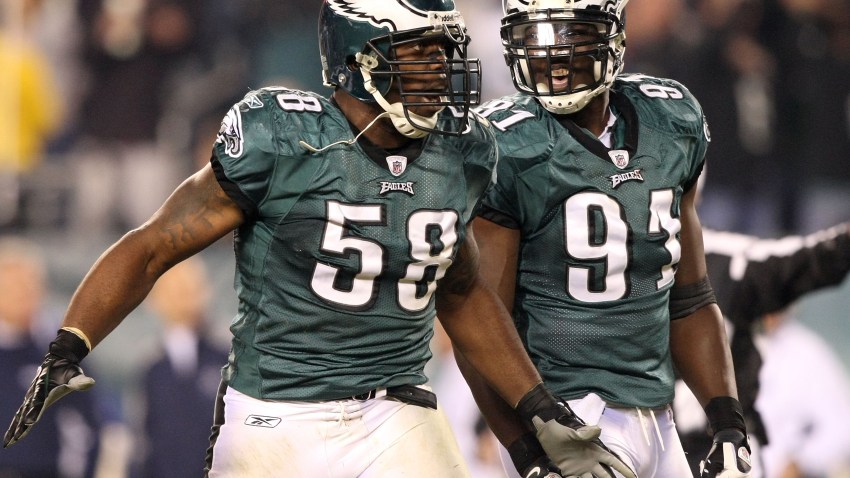 Wednesday's look at Eagles pass rushers revealed some interesting insights. But with that limited data we could only compare players within the Eagles organization -- we couldn't tell who was good compared to the players on other teams.
That's why this time we're going to look at the Total Pressure per Rush for the entire NFC East. See the chart below.
The first thing that stands out is that Trent Cole has surpassed DeMarcus Ware as the best pass rusher in the division. Last year Ware led the pack as the only player with more than 13 percent. This time he hasn't fallen off much, but Cole has improved by almost five percentage points.
Meanwhile, the second-best rusher last year was Anthony Spencer of the Cowboys, who has droppd down to 11th this season. That could explain why Dallas's pass rush isn't nearly as fearsome as everyone thought it would be during the offseaon.
Who has stepped up to take Spencer's place as best young rusher? Why, Eagles rookie Brandon Graham, who despite only amassing three sacks, is third best in the division in total pressures. He's followed close behind by the guy who shares his snaps, Juqua Parker, and another Eagles back-up, Darryl Tapp. None of these players have been flashy, but they're making an impact even when you're not noticing them.
Further down the list are Redskins linebacker Brian Orakpo and suspended leviathan Albert Haynesworth, who apparently hasn't been playing too poorly. Finally we get to some Giants, where first round pick Jason Pierre-Paul has caused more havoc than his veteran defensive colleagues. While Justin Tuck and Osi Umenyiora share the division lead in sacks with 10 each, their overall impact has been less impressive on a per play basis -- only Cole has been in on more passing downs than Tuck and Umenyiora.
Ultimately, there are still a few more weeks left before the NFC East pass rush crown can be awarded. But the Eagles certainly seem to be doing a fine job harassing opposing quarterbacks thus far.