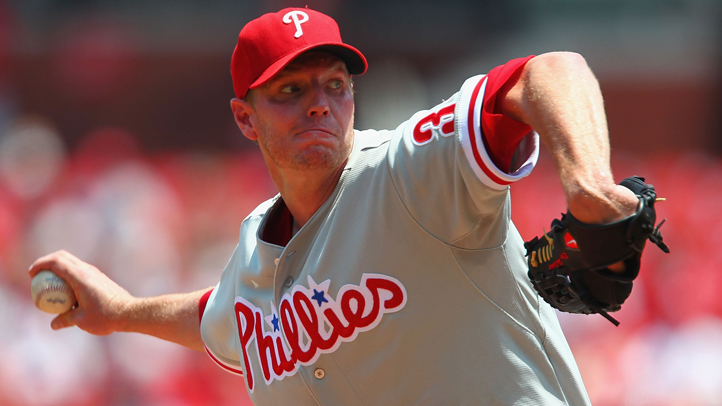 The off-season is in full swing, and it will only be a matter of time before General Manager Ruben Amaro pulls the strings on some huge move (or several small ones) that will but the Phillies back in the driver's seat in 2013. One of those moves, as it turned out, was a possible contract extension for starting pitcher Roy Halladay, according to ESPN's Jayson Stark.
Before Halladay's shoulder started acting up in midseason, the Phillies had actually had some preliminary talks with his agent, Greg Landry, about an extension that would keep Halladay in Philadelphia beyond next year -- and bring his salary more in line with the $24 million average annual value of Cliff Lee's deal. But Halladay's shoulder -- and the Phillies -- put an end to those talks.

"We kicked it around, but we tabled it," Amaro said. "It just wasn't the right time to focus on that."


Good thinking, Ruben. Now, I love Halladay as much as the next fan, but offering a multi-year extension to him now would just be foolish, considering that he was well over-par in 2012, and isn't a sure bet to regain his Ace status going forward.

I blogged about this a few days ago, but the reason that Halladay had a lackluster 2012 was an injury that stayed with him all season that cost him a few miles on his fastball and his normally pinpoint control. However, and I think this is worth mentioning, Doc will turn 36-years-old during next season, and that's not insignificant. Age is only a number, but the body can only do so much as it gets on in years. And in the case of Roy Halladay, he's had more mileage put on his body than most.

I'm not one to hand out compliments to Ruben Amaro (understandable considering that he's responsible for two of the worst trades of the last decade), but the amount of restraint that he showed in not offering Halladay an extension is not to be overlooked. It would have been really easy to give him $20MM per for three more seasons, but I'm glad that he didn't.

Would I like to see Halladay in a Phillies uniform past 2013? Of course. Do I think it's possible? Sure, I do. But the question that we need to concern ourselves with is: Would it be practical?