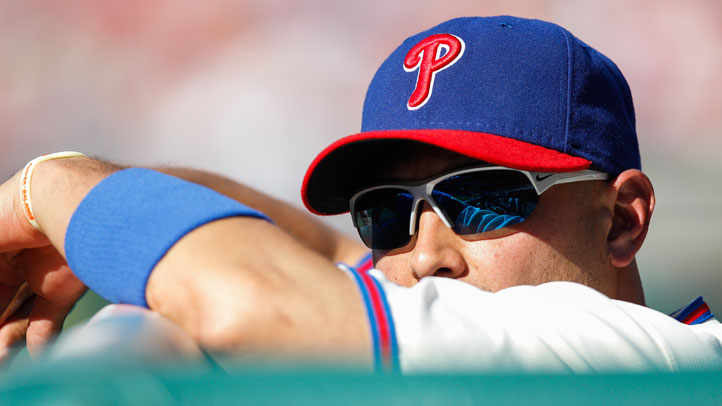 One of the good things about this weekend's sweep at the hands of the Braves – not that getting swept by the Braves is ever a good thing, but you'll see where I am going with this – is that it almost guarantees that the Phillies are going to start selling off pieces of the 2012 club.

And as I wrote earlier, a sweep was sort of a best-case scenario as it pertains to the future of the Phillies. Had they won the series in Atlanta, they might not have been so willing to start trading off members of their team because they could conceivably keep winning with two months left in the season. Had they gone that route, the value that was to be had from any trades goes right out the window, which puts them in a tough spot heading into next season.

But as it happened, they got swept, and are more-or-less cooked. And with the trading deadline just two days away, it means that Ruben Amaro and company can start doing what needs to be done: sell the team and look forward to next season.

Even in light of their four game winning streak earlier this week, the Phillies have been in a position to sell for the better part of the season. With the Braves and Washington Nationals running roughshod over the rest of the division, the Phillies stood very little chance in making it back to the playoffs given their injuries and their frequent missteps earlier in the season. And because of that, the Phillies need to do what they can to focus on next season, and that means trading early, and trading often.

Despite not having a huge chip to move, like a Zack Greinke or a C.C. Sabathia, the Phillies do have several players who, as a whole, should net them a decent return in prospects that could (hopefully) contribute as early next year.

Between Shane Victorino (who will be a free agent at year's end), Joe Blanton (3.55 ERA in his last eight starts), Juan Pierre (Amaro's best buy-low-sell-high moves), and Hunter Pence (who will be very expensive next season), the Phillies have the goods to get a number of deals done.

This crop of players won't net them any super prospects in return, but it will allow them to restock their farm system, which they could then use to address some areas of need, like the bullpen or third base. But perhaps most importantly, it clears at least $20MM off the books for 2013, which affords them a decent amount of flexibility when it comes to signing free agents.

Like I said, it's about looking forward. It would be great if the Phillies could make a run at the playoffs, but that is a longshot, and that doesn't do much to help them out in the off-season. At least now they can focus solely on 2013 and beyond, instead of having to worry about what is going to happen over the next three months.

Losing sucks, no doubt about that, but in the grand scheme of things, having a lousy 2012 season could be very beneficial for the future of the Philadelphia Phillies. Now, it's just up to Ruben Amaro to make that happen.