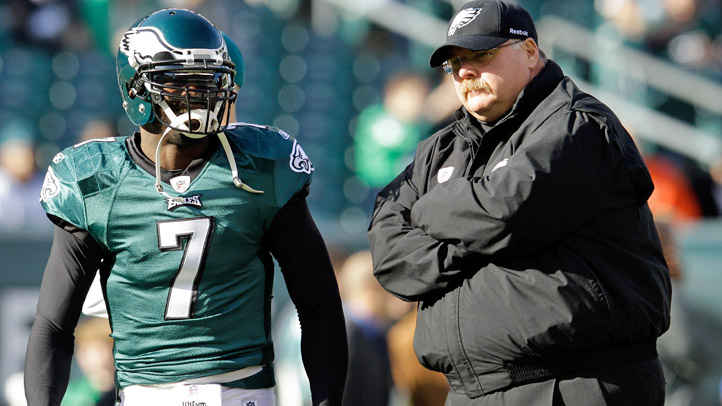 You're an Eagles fan. You're upset that Andy Reid was kept on as head coach, and you're REAL upset that Juan Castillo hasn't been given his walking papers yet. I get it. I understand. I'm with you all the way. But you know who isn't with you? Eagles guard Evan Mathis, who went on Twitter the other day and said that fans hoping for a change were idiots.
"If you wanted Andy Reid gone, you're an idiot."
Well excusssssse me, Mr. Mathis. I'm sure you have your reasons for liking Andy, seeing as how he threw $685,000 your way to play for Philly this season. BUT YOU DIDN'T HAVE TO WATCH THIS TEAM. You got to be down on the field having fun while the rest of us sat up here and watched Owen Schmitt get goal line carries. So don't think you can understand what it's like for Eagles fans, jerky!

Mathis went on the radio to explain himself, but I don't think he did a very good job.
"Just seeing what I have seen in this league. Seeing how things are done. I know Andy Reid has the ability to do it. I know he will bring a Super Bowl to Philadelphia."
Dude, you've played for the Panthers, Dolphins, and Bengals. No wonder Philly seems like the shrewdest team in the universe. That's Andy Reid's con. He gets you to believe in him by being better than the really bad teams, but not better than the best teams. It's what veteran grifters call a "long con".
"I didn't call the fan base idiots. I said if you want Andy Reid gone you are an idiot."
Radio host Mike Missanelli then pointed that "people who want Andy Reid fired" and "Eagles fans" are pretty much the same group of people. I know that players are loyal to Andy Reid, and I guess that's a good thing, but that doesn't make me want Reid fired any less. If your boss is nice to you and reasonable, you're loyal to him. That doesn't mean he's any GOOD. Mathis is being a good soldier here, but that doesn't mean his general isn't lousy with the clock.