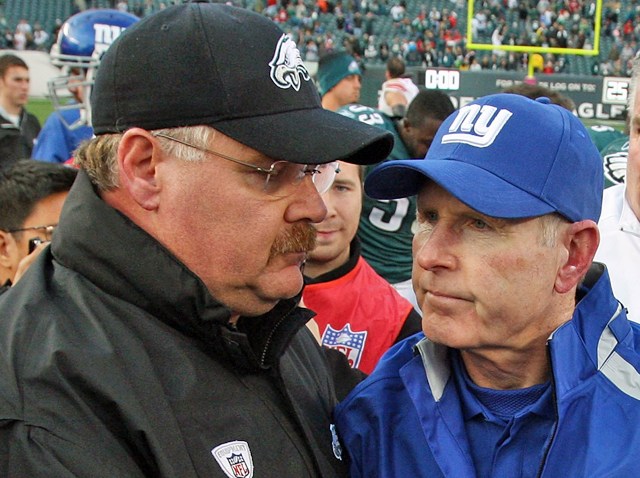 The best part about the NFL is that with games only once a week there is plenty of time in between for great debates.
With the Eagles set to clash with the Giants on NBC's Sunday Night Football this weekend let's take a look at the guys calling the shots.
With it all on the line -- needing to win just one game (maybe the Super Bowl) -- which head coach would you rather have Eagles Andy Reid or Giants Tom Coughlin?
Let's look at the tale of the tape.
Reid (Age: 52):
12th season as NFL head coach (all with the Eagles)
114-70 record
.620 winning percentage
10-8 playoff record
7 division titles
0 Super Bowls
Intangible - takes heat off his players
Coughlin (age: 64):
15th season as NFL head coach (8 with Jaguars/7 with Giants)
129-104 record
.554 winning percentage
8-7 playoff record
6 division titles
1 NFC Championship
1 Super Bowl
Intangible - timely
OK, lets call the playoff record a wash and also through out the conference championships since each coach has one. Also Coughlin having more wins and losses could be expected since he has three more seasons under his considerably smaller belt.
And also both coaches look equally grumpy on most given days -- so I'll call that one even.
It looks like Big Red takes the cake when it comes to winning percentage and also he has led the Eagles to the division crowns more times than not. But Coughlin gets the nod for the most important of all categories -- Super Bowl wins.
In his one shot in the big game the G-Men's main man won the giant one unlike Reid when he had a shot. And Coughlin beat the 18-0 Patriots in the Super Bowl while Reid lost to the 16-2 Pats three years earlier.
So, it would seem that if you had to win just one game you would want Coughlin since he won that game already.
But, considering Reid's history of preparing for opponents you might want him to prepare and than Coughlin to adjust in game and take care of clock management.
I know I'll hear it from Birds fans for this, but I would have to pick Coughlin over Reid with one game to win.
Believe me I would take another active Super Bowl-winning coach like Bill Belichick over Coughlin but the Pats coach isn't an option in this case. So since Coughlin's hoisted the Lombardi trophy while Reid has only hoisted -- well whatever they call the NFC Championship trophy, I would take Coughlin with it all on the line.
What do you think?