The moment the scoreboard clock in Minnesota hit zero. Seeing them hoist the Vince Lombardi trophy above their heads. When they road the floats down Broad Street to the Art Museum amid a flurry of confetti and flying beer cans. The first glimpse of the blinged out rings on their fingers.
The Philadelphia Eagles winning the Super Bowl has lead to dozens of firsts for Birds fans to drink in and cherish.
Thursday night's NFL opener against the Atlanta Falcons in South Philly provided more.
Birds fans waited their entire lives for this moment so a weather delay wouldn't stop the party.
After some severe weather in the South Philly stadium complex area forced the game to be delayed by about a 50 minutes, the Birds finally took the field as defending Super Bowl champions for the first time in franchise history.
The organization also finally unveiled that most-coveted Super Bowl Champions banner that fans have been waiting patiently for at the top of Lincoln Financial Field. It looks beautiful in its new home.
The victory ceremony got underway around 8:45 p.m. with Hall of Famer Brian Dawkins kicking things off and bringing out owner Jeff Lurie with the Lombardi trophy. A raucous version of the Eagles fight song came next and the banner was finally unveiled up in the rafters.
There was also a gigantic oversized Lombardi trophy at the middle of the field for good measure.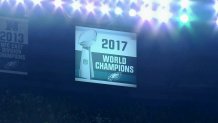 The ceremony begins at 8:45. pic.twitter.com/URNiQhFVG5 — Dave Zangaro (@DZangaroNBCS) September 7, 2018
Sports
In partnership with NBC Sports Philadelphia
pic.twitter.com/EVKmFJsW9e — chris jones¯_(ツ)_/¯ (@LONG_DRIVE) September 7, 2018
Brian Dawkins leading the banner ceremony. #Eagles pic.twitter.com/Wvah4ds5mG — Dave Zangaro (@DZangaroNBCS) September 7, 2018
.@BrianDawkins introduces the man who brought the first Lombardi to Philadelphia! #FlyEaglesFly pic.twitter.com/q2W3h0g2UI — SNF on NBC (@SNFonNBC) September 7, 2018
More on the Eagles
Copyright CSNPhily