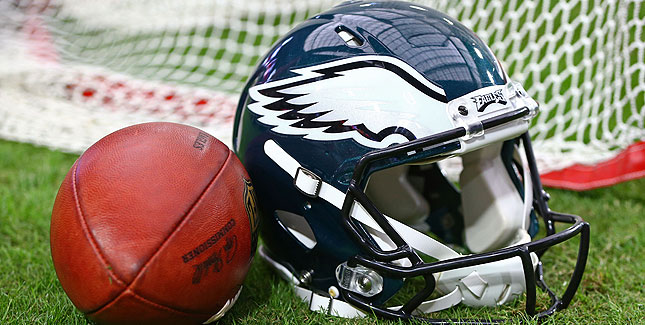 The oddsmakers are on the Wentz Wagon.
The Eagles' Super Bowl odds are the best they've been since the end of last season.
Bovada's latest release has the Eagles' odds of winning the Super Bowl at 33/1. They've doubled since last week, when they were 66/1 after quarterback Carson Wentz's sparkling NFL debut against the Browns.
The Eagles are tied with the Ravens, Bengals, Cowboys and Chiefs at 33/1, 11th in the league.
The Eagles opened the season at 75/1. They opened the offseason, on Feb. 8, at 33/1 and dropped to 50/1 in March, remained 50/1 in May and dropped to 66/1 in July.
The Patriots have the best odds (9/2), followed by the Steelers (7/1), who visit the Linc on Sunday, the Cardinals (8/1) and Packers (8/1).
The Browns have the longest odds (500/1).
Wentz is still the leader to win NFL Offensive Rookie of the Year (8/5), ahead of Cowboys RB Ezekiel Elliott (7/2), Texans WR Will Fuller (7/2) and Giants WR Sterling Sheppard (15/2).
Complete Super Bowl odds:
New England Patriots: 9/2
Pittsburgh Steelers: 7/1
Arizona Cardinals: 8/1
Green Bay Packers: 8/1
Seattle Seahawks: 12/1
Carolina Panthers: 12/1
Denver Broncos: 14/1
Houston Texans: 16/1
Minnesota Vikings: 16/1
New York Giants: 18/1
Baltimore Ravens: 33/1
Cincinnati Bengals: 33/1
Dallas Cowboys: 33/1
Kansas City Chiefs: 33/1
Philadelphia Eagles: 33/1
New York Jets: 40/1
Oakland Raiders: 40/1
San Diego Chargers: 50/1
Indianapolis Colts: 66/1
Atlanta Falcons: 75/1
Detroit Lions: 75/1
Tampa Bay Buccaneers: 75/1
Los Angeles Rams: 100/1
New Orleans Saints: 100/1
Chicago Bears: 150/1
Jacksonville Jaguars: 150/1
San Francisco 49ers:150/1
Tennessee Titans: 150/1
Washington Redskins: 150/1
Miami Dolphins: 200/1
Buffalo Bills: 200/1
Cleveland Browns: 500/1
Copyright CSNPhily