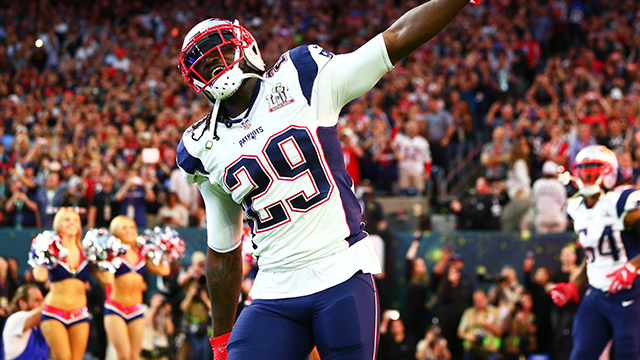 The Eagles have found their bruising running back.
The team on Wednesday morning agreed to a one-year deal with 6-foot-1, 245-pound LeGarrett Blount.
Blount, 30, became a free agent after the 2016 season with the Patriots. In 2016, he rushed for 1,168 yards and 18 touchdowns. Those 18 rushing touchdowns were a franchise record for the Patriots.
The Eagles seemed to be in desperate need of a bigger running back to pair with Wendell Smallwood, Darren Sproles and Donnel Pumphrey, and it appears they've found their answer in Blount, a seven-year veteran. [[247269581, C]]
"We're always looking for complementary players when we go over our roster and positions," Eagles VP of football operations Howie Roseman said at the NovaCare Complex on Wednesdy. "Obviously, LeGarrette had a tremendous amount of success with New England last year, rushing for over 1,000 yards and scoring 18 touchdowns and winning a Super Bowl. He sets the tempo for your team as a running back.
"He can run between the tackles and he can drag tacklers down the field. He can do everything you look for in the running game. He had runs of plus-20 yards (Blount had seven rushes of 20-plus yards last season, tied for sixth most in the league) and he's won two Super Bowls in the last four years. For us, people are going to see that his size is what jumps out at you, but he's also got quick feet for a big man. He has a complementary skill set that works well in our backfield."
(More coming...)
Copyright CSNPhily