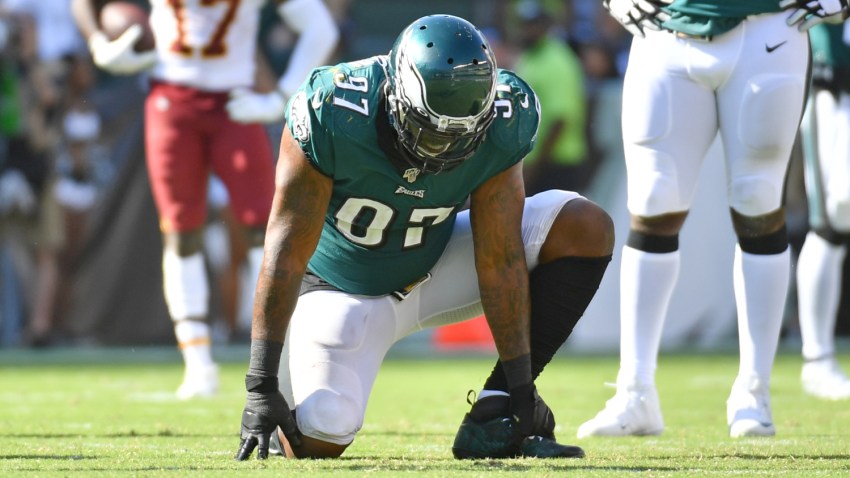 One game into the 2019 season, the Eagles have already lost one of their top offseason acquisitions.
Defensive tackle Malik Jackson is out for the rest of the season with a Lisfranc injury that requires surgery, according to NFL Network.
Philadelphia Eagles
Complete coverage of the Philadelphia Eagles and their NFL rivals from NBC Sports Philadelphia.
On Monday, Doug Pederson classified the injury as "significant" and while defensive coordinator Jim Schwartz stopped short of confirming the report, it's clear the Eagles will be without Jackson the rest of the way.
"Malik's an important part of what we do and we'll certainly miss him when he's (not) on the field, but we have plenty of guys who can step up and play," Schwartz said. "That's nothing new in the NFL. It doesn't change our task from game to game and it doesn't change our task over the course of the year."
The Eagles signed Jackson, 29, this offseason to be an important part of the defensive line. He was supposed to be that key DT next to Fletcher Cox, in a spot where the Eagles had a noticeable lack of depth last season.
Jackson signed a three-year, $30 million deal ($17 million guaranteed) with the Eagles in the offseason and they lost him one game into what they hope will be a championship season.
So what now?
Well, the easiest and most obvious answer is Tim Jernigan's role increases. Jernigan is finally healthy after missing most of last season and on Sunday picked up his first full sack since November 2017. While Jernigan might be known as more of a run-stuffer, Schwartz said they have confidence is his pass rush ability too.
"Luckily for us, we have depth," Nigel Bradham said. "It's definitely going to be a loss. It's unfortunate. But we have Tim Jernigan and it's a blessing to have him."
In the locker room on Tuesday, a few of Jernigan's teammates said they think Jernigan looks to be back to the player he was before his back injury in 2018. Remember, Jernigan even played the last half of the 2017 season with an ankle injury, so this is the healthiest he's been in nearly two years.
"He's excited," Curry said about Jernigan. "At the end of the day, we won a championship with this group. He's excited, he's ready. He's up for the challenge. He's going to take this opportunity."
Without Jackson, the Eagles have Cox, Jernigan and Ridgeway on the roster as defensive tackles. Bruce Hector is waiting on the practice squad or the Eagles could try to bring in a free agent. But they also have Brandon Graham and Curry as defensive ends who have previously played inside. Even before Jackson's injury on Sunday, Graham got some snaps at DT. Heck, he made the biggest play of his career in the Super Bowl rushing from the inside.
The Eagles preferred to have Jackson on their third-down pass rush line, but will now likely revert back to using a defensive end inside at that position. Curry said the only difference when that happens is that things just get a little faster. Perhaps this could also mean more opportunity for Josh Sweat, Daeshon Hall or Shareef Miller.
While the Eagles are confident in their depth at that position - a healthy Tim Jernigan was one of their highest-caliber backup/rotational player going into the 2019 season - losing Jackson still hurts. He's a former Pro Bowl player, who was supposed to thrive next to Cox, who constantly sees double teams.
"Things definitely change, man," Curry said. "He's (a Pro Bowl) player, so the things that he brings to our D-line is awesome. It's tough that we're going to have to play without him."
Click here to download the MyTeams App by NBC Sports! Receive comprehensive coverage of your teams and stream the Flyers, Sixers and Phillies games easily on your device.
More on the Eagles
Copyright CSNPhily