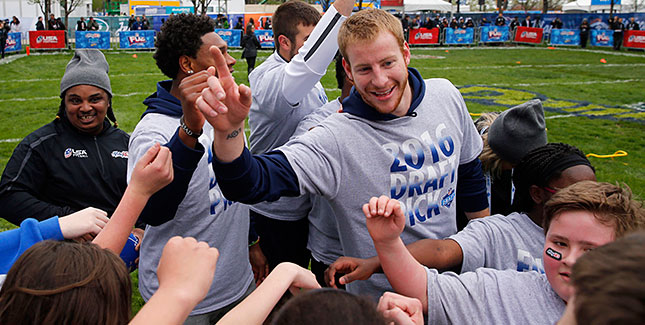 On the latest edition of Roob Knows, Reuben Frank predicts Carson Wentz will not show much, if any, rust in his debut against the Colts. What's the biggest difference between Nick Foles and Carson Wentz? The Eagles' problems at wide receiver will likely have to be answered from in house. There was one positive from an otherwise poor performance in Tampa Bay. Also, some eye-opening stats from Week 2.
1:00 - Carson Wentz is back and is a clear upgrade over Nick Foles.
4:00 - Why this offense will look good from Wentz's first snap.
6:00 - Eagles problems at WR.
13:30 - A big positive from Sunday's loss in Tampa Bay.
18:30 - Defensive line performance was a big disappointment.
23:00 - Roob Knows stats from week 2.
26:00 - NFC East looks very weak.
Subscribe and rate Roob Knows:
Apple Podcasts / Google Play / Stitcher / Spotify / Art19
Philadelphia Eagles
Complete coverage of the Philadelphia Eagles and their NFL rivals from NBC Sports Philadelphia.
Copyright CSNPhily