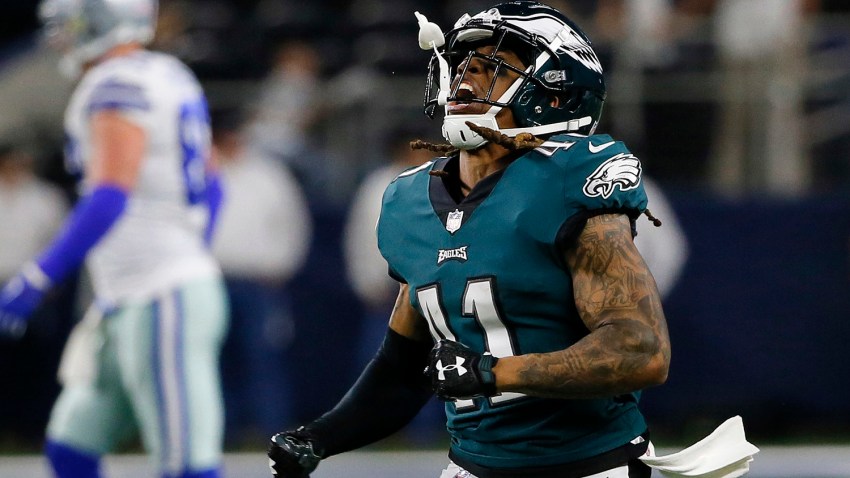 BLOOMINGTON, Minn. -- Ronald Darby took a second to soak it in.
As the 24-year-old corner prepares to start for the Eagles in Super Bowl LII on Sunday, just thinking about all it took for him to get to this point is unavoidable. It's been a wild few months.
Darby began training camp in Buffalo with the Bills before the Eagles packaged Jordan Matthews and a third-round pick to get him to Philadelphia. He immediately became a starter for the Eagles, but dislocated his ankle in the first half of the season opener in Washington.
Philadelphia Eagles
Complete coverage of the Philadelphia Eagles and their NFL rivals from NBC Sports Philadelphia.
Eventually, he came back and will now start in the Super Bowl.
"It's a blessing," said Darby, who had 34 tackles and three interceptions in his first season with the Eagles. "It is crazy, everything that happened this year. At the end of the day, I'm happy to be here."
Like most football players, Darby has always dreamed of playing in the Super Bowl. He already won a national championship with Florida State in 2013, so he wants to reach the pinnacle of the professional ranks now too.
How does he think winning the Super Bowl would compare?
"Super Bowl will probably be more of a better feeling," he said. "I feel as though that's a lot harder than college. There's guys that have been playing in this league forever and haven't even been to the playoffs. So it'll be a blessing because you don't ever know when you'll make it back to the Super Bowl. You gotta take full advantage of this opportunity."
The Eagles traded for Darby on Aug. 11 and at the time, Darby now admits, he didn't know much about his new team. After all, he spent his first two years in the NFL with the Bills in the AFC East. Different division, different conference.
It didn't take him long to think the Eagles had the makings of a special team. After seeing how hard the team worked, he thought the Eagles were a special team in his second week in Philadelphia.
"I knew we had all the pieces," he said.
Darby was certainly one of those pieces. Back then, cornerback was considered the weakest position on the team. Had Rasul Douglas played well from the jump, there seems to be a good chance the Eagles would have never pulled the trigger. As it worked out, though, once Darby went down, the Eagles really discovered how deep they were at corner.
Darby's injury was gruesome. At the time, it looked like his season was over and Darby now admits just how mad he was at the time. Incredibly, Darby missed just eight games and returned to the field on Nov. 19 in North Texas against the Cowboys.
Because he missed so much time, Darby knew he wasn't going to return as the same player immediately. He tempered his early expectations. Looking back, the Eagles were lucky Darby's injury came in Week 1, because not only has he been back for the playoffs, but thanks to the extra time, he's been back to his top form from before the injury.
"That's a good thing that it happened early on, rather than later," he said. "I'm able to play through the postseason and things like that. It was a blessing."
The Eagles are certainly going to need him on Super Bowl Sunday. They're going to be going up against the greatest quarterback of all time in New England's Tom Brady as they attempt to bring the Birds and the Philly fans their first Lombardi Trophy.
After all he's been through, Darby can't wait.
"I know it's going to be crazy," he said. "I know Philly fans are going to show up and it's going to be a crazy atmosphere, almost like it was here during the playoffs."
Copyright CSNPhily