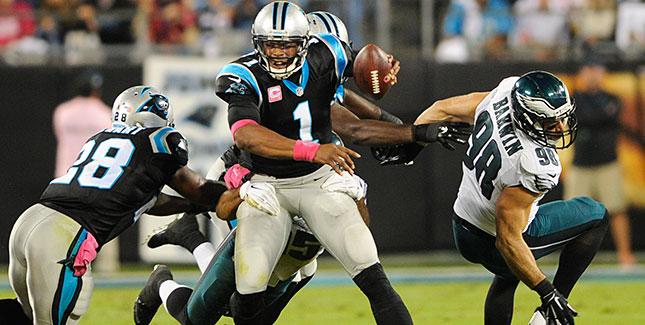 The Eagles and Panthers enter their Thursday night showdown with 4-1 records, though it won't quite be like looking in a mirror when they take the field. Though there are some similarities, these two teams are constructed a bit differently -- or at least, have their own unique strengths and weaknesses.
Actually, they are kind of the same when you think about it. Big, mobile quarterbacks surrounded by big playmakers at receiver and tight end, a power running game and quality offensive line. Stout defenses up front with questions in the back end. Coaching staffs that are doing some of their best work in the early portion of this season.
Yet, for all their comparisons, the breakdown gives one side or the other a fairly obvious edge at almost every position. Similar makeup, but different strengths and weaknesses. What will it mean when the Eagles and Panthers take the field?
Philadelphia Eagles
Complete coverage of the Philadelphia Eagles and their NFL rivals from NBC Sports Philadelphia.
QUARTERBACKS
Carson Wentz appears to be blossoming into the NFL's next elite quarterback, which is great news for the future of the Eagles franchise. Still, Wentz has a ways to go to reach Cam Newton's level. After a shaky start to the season coming off of shoulder surgery, Newton has been red hot the last two weeks, completing 77.4 percent of his passes for 10.8 yards per attempt with six touchdowns and one interception, and running for 44 yards and a score in back-to-back wins. He's only one season removed from earning the NFL's Most Valuable Player Award and leading the Panthers to a Super Bowl. Wentz is on the right track, but he's not quite there yet.
Edge: Panthers
RUNNING BACKS
At this stage of their respective careers, LeGarrette Blount and Jonathan Stewart are very similar backs. They're big, bruising runners, and if either one gets into the open field, look out. Both are their 30s and don't pose much of a threat as receivers, though that's an area the Panthers may own an advantage. Eighth-overall draft pick Christian McCaffrey has proven an immediate weapon in the passing attack, with a team-leading 27 receptions for 237 yards and 1 touchdown. McCaffrey is their Darren Sproles. Unfortunately for the Eagles, Sproles is out for the year.
Edge: Panthers
WIDE RECEIVERS AND TIGHT ENDS
There will be no shortage of massive targets on the field on Thursday night. Zach Ertz (6-foot-5, 250 pounds) is tied for third in the NFL with 32 receptions and seventh with 387 yards -- as a tight end -- and Alshon Jeffery (6-3, 218) is quietly having a nice year for the Eagles with 20 receptions for 246 yards. The Panthers feature Kelvin Benjamin (6-5, 245) and Devin Funchess (6-4, 225), who have a combined 41 receptions, 541 yards and 4 touchdowns, although lack much depth behind their top two receivers. Prolific tight end Greg Olsen is on injured reserve, which is a huge blow. With Torrey Smith and Nelson Agholor emerging as weapons for the Eagles, the decision is easy.
Edge: Eagles
OFFENSIVE LINES
Even if five-time Pro Bowl center Ryan Kalil wasn't out with a neck injury for the Panthers, it would be difficult to give them the nod. The Eagles offensive line has simply looked like one of if not the very best unit in the league the last few weeks. Sure, Halapoulivaati Vaitai replaces Lane Johnson (concussion) at right tackle. Vaitai is also experienced, and the line didn't miss a beat last week when he entered the game. Even acknowledging both sides will be without a key member, the Eagles have done a superior job. Look no further than the rushing stats, where the Birds rank fifth in the NFL, and the Panthers are 19th.
Edge: Eagles
DEFENSIVE FRONT SEVENS
This is going to be difficult to evaluate, as Fletcher Cox is a game-time decision for the Eagles with a calf injury. Cox is one of the most disruptive players in the league, but has missed the last two games. The defensive line has held up fine without him, but has also benefited from going against some bad O-lines. Meanwhile, Carolina's front four sports three players with at least 3.0 sacks -- Mario Addison, Kawann Short and Julius Peppers -- compared to only Brandon Graham for the Eagles. Even if the clubs are even in the trenches, linebackers Luke Kuechly and Thomas Davis split six Pro Bowl selections between them, not to mention a Defensive Player of the Year award.
Edge: Panthers
DEFENSIVE BACKS
The Eagles have been pleasantly surprised by what they're getting out of Patrick Robinson. Robinson can play the nickel or move outside, and currently grades as one of the best cornerbacks in the league, while Jalen Mills and Rasul Douglas are doing fine. The Panthers are getting nice work from second-year corner James Bradberry, but the rest of the secondary is suspect, especially with Kur Coleman out (knee). The safeties are the difference. Even with Coleman, Carolina is susceptible to the deep ball. The Eagles have Malcolm Jenkins and Rodney McLeod patrolling that area of the field, which is a comforting feeling.
Edge: Eagles
SPECIAL TEAMS
There's no other way to say this: the Eagles special teams units have been incredible the past couple weeks. Field goals, punts, returns, coverage, you name it -- they have completed dominated the competition in every phase. On paper, they should do the same to Carolina as well.
Distinct edge: Eagles
COACHING
You have to hand it to Ron Rivera. The Panthers have been tough every year since they've been there, never winning fewer than six games in his first six season. They have four victories already, and are on pace for for their fourth playoff appearance in five years. There was some changeover on Rivera's staff with Doug McDermott leaving for Buffalo, but Mike Shula remains the offensive coordinator. Doug Pederson has been getting in a groove the last few weeks with the Eagles, but simply doesn't have the experience of Carolina's staff, while most probably wouldn't take defensive coordinator Jim Schwartz over Rivera in that role.
Slight edge: Panthers
OVERALL
Two evenly matched teams, both with some fairly distinct advantages in different areas. That makes it really tough to predict a winner. However, the Panthers may hold the upper hand in the two most important categories: quarterback and coaching. Wentz and Pederson may one day be on the level of Newton and Rivera -- that day may even come Thursday night. Right now, it's clear which is the more experienced, more decorated combination. If the Eagles are going to come out of Carolina with a win this week, Wentz will have to play to Newton's level, and Pederson must match Rivera and his staff call for call. That's going to be easier said than done.
Slight edge: Panthers
Copyright CSNPhily