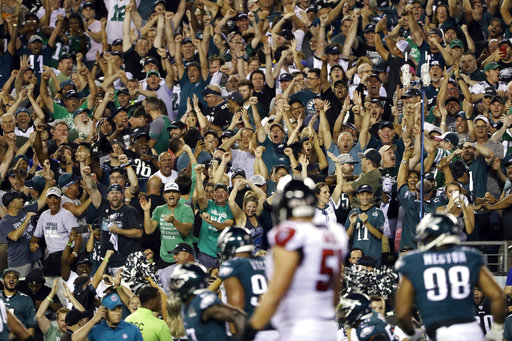 The Eagles pulled out a huge, tough win Thursday night in the NFL's season opener over the Falcons. It most certainly wasn't always pretty, but the Birds woke up this morning with a 1-0 record. That's the most important thing to come out of the game.
Some people in the media wanted to focus on the fact that there happened to be a contingent of Eagles fans at the Linc who booed at the end of the first half.
VIDEO: Eagles fans boo defending Super Bowl champs off field at halftime https://t.co/waM0ypENF0 pic.twitter.com/cro2mHwdlo— Deadspin (@Deadspin) September 7, 2018
Philadelphia Eagles
Complete coverage of the Philadelphia Eagles and their NFL rivals from NBC Sports Philadelphia.
How are you going to boo a team that raised a Super Bowl Champions banner before the start of the game?
I'll tell you how. There are no rules for booing. You boo when you want to boo. You boo when a team plays very poorly or makes an incredibly poor mistake. You boo the refs whenever you want. You boo Tre Sullivan when he makes a totally bone-headed play on special teams that could have cost the Birds a win. You boo Cris Collinsworth all the time.
Eagles fans boo Cris Collinsworth as he takes the field 😂😂#FlyEaglesFly pic.twitter.com/myKmYv3Be4— John Clark (@JClarkNBCS) September 6, 2018
You boo the entire first half of football last night from both teams.
Or you don't boo. It doesn't matter. There are no rules.
Just because the Eagles won the Super Bowl last season doesn't change the DNA of Philly fans. Will we give a little more leeway to the Birds because of their recent success? Probably. Just a little. But that doesn't mean we're going to be OK with repeated three-and-outs on our home field.
Don't take my word for it. Let's check in with the Eagles players.
"I was just happy that our crowd booed when they got upset, because I was concerned that we would get a little bit spoiled. I was happy they kept their edge," Malcolm Jenkins said after the game, via 94WIP.
We'll give the hero of Super Bowl LII who had something of a rough night Thursday the final word.
Great team win tonight! Fans were loud and rowdy. Thank ya'll! #phillyphilly #FlyEaglesFly— Nick Foles (@NickFoles) September 7, 2018
Loud and rowdy. Just like always.
More on the Eagles
Copyright CSNPhily