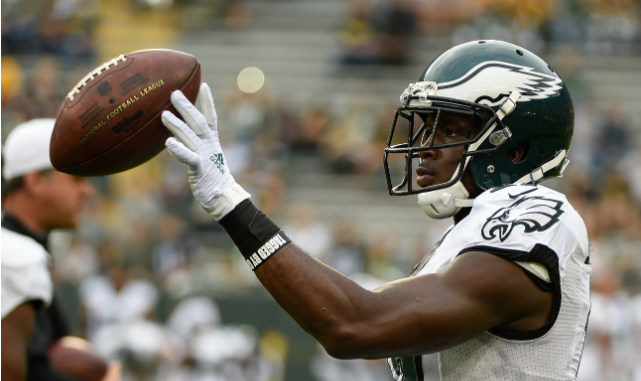 Nelson Agholor had 72 yards on one play, and to put into context just how far he's come, consider that before this year he never had 72 yards in a game.
Agholor continued his career resurgence Sunday with a dazzling 72-yard run and catch for a TD and a career-high 93 yards in the Eagles' 34-7 rout of the Cards at the Linc.
"I think I'm having a whole lot of fun right now," Agholor said. "I work my butt off, and I want to continue to work my butt off. Because I enjoy this. I really enjoy the game of football, and I enjoy the process of getting better. And then I want to go out here and have fun with my teammates."
Philadelphia Eagles
Complete coverage of the Philadelphia Eagles and their NFL rivals from NBC Sports Philadelphia.
Agholor opened the season with a career-high six catches for 86 yards and a 58-yard TD against the Redskins.
He's the first Eagle with two TDs of 50 yards or more this early in a season since DeSean Jackson in 2010.
And it was Jackson that Agholor honored with his falling backwards end zone routine after his wild romp through the Cards' secondary.
"That's kind of a tribute to D-Jack," Agholor said. "He used to always do that, and I watch a lot of his tape, so shout out to D-Jack for that."
It's Agholor and not Alshon Jeffery or Torrey Smith who is the Eagles' second-leading receiver this year behind Zach Ertz.
After averaging 30 catches for 324 yards with three TDs in his first two seasons, the former first-round pick already has 16 catches for 266 yards and three TDs in just five games.
Different guy. We saw it throughout the offseason, and now he's doing it when it counts.
"It's confidence," Doug Pederson said. "It's total confidence and it's -- I think it's me believing in him, the coaching staff on offense believing in him, and the players around him believing in him.
"I see this kid every single day, and the way he walks in the building with confidence. Nothing gets him down. He works extremely hard, and he's playing at a high level right now."
The Eagles led 24-7 but faced a 3rd-and-19 inside their own 30-yard-line midway through the third quarter when Wentz connected with Agholor while the Cards blitzed everybody.
"If you guys go back and watch it, Jason Kelce made an unbelievable play," Wentz said. "He ended up blocking two guys, so I shouldn't have had the time to get that one off but he made an unbelievable play.
"And then Nelson did the rest. He made the catch and then made the guy look silly. Hats off to the big boys up front and then Nelly getting open."
The Eagles' 2015 first-round pick caught the ball at the 30-yard-line as he separated from Cards safety Budda Baker. He faked an inside move on Baker, then did a complete 360 at the 15-yard-line to lose the rookie, then jogged down the sideline with his career-high third TD catch.
"I saw the ball in the air, so I turned up another gear to go track it," Agholor said. "Carson just gave me a great opportunity. He threw such a beautiful ball. Easy to track, and I made the play from there."
We're five weeks into the season, and there's only one player in the NFL with two touchdown catches of 50 yards or more.
Guess who.
"That play to Nelson was a huge play," Ertz said. "That just shows how far he's come in the past couple years. We're really happy where he's at, his growth this year."
The last two years were nightmares for the Eagles and for Agholor. Things got so bad midway through last season that Pederson not only benched Agholor but deactivated him for a home game against the Packers.
Now the Eagles are 4-1 and in first place in the NFC East, and Agholor is their leading wide receiver.
"We have a great football team," he said. "We've got great people in this building. I trust and respect everybody in this building. I just want to work hard every day and help this team win football games.
"We can still get better. We're never satisfied. We're a great football team in my opinion, but we're a football team that has a room to grow as individuals and as a whole.
"You'll never play a perfect game, but you want to strive for perfection. You want to grow each week, and you want to be competitive. I feel like we're a competitive team, and we've got a lot of great players on this team and selfless players."
Copyright CSNPhily