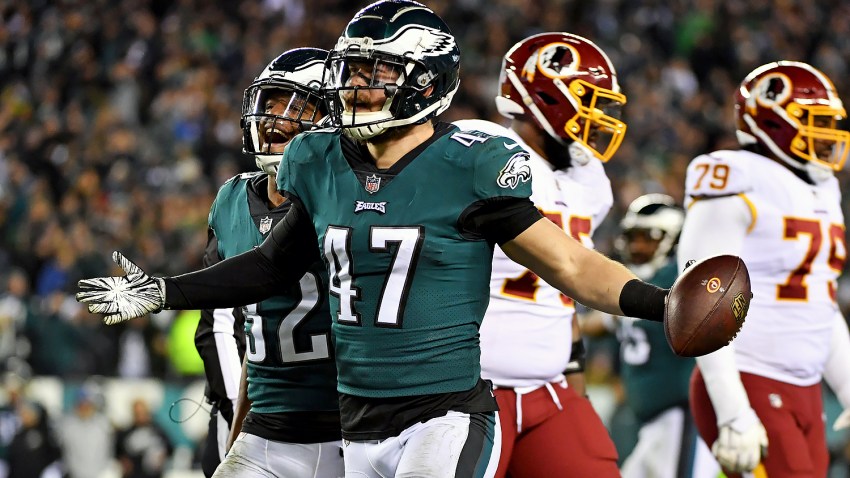 Jim Schwartz held his weekly press conference Wednesday with members of the Philadelphia media.
Here were my three biggest takeaways:
The 90-yard run
Philadelphia Eagles
Complete coverage of the Philadelphia Eagles and their NFL rivals from NBC Sports Philadelphia.
The Eagles gave up a 90-yard touchdown run to Adrian Peterson early in the second quarter Monday night. That was obviously not good. It was the longest run the Eagles have ever allowed in franchise history. Schwartz actually dialed up a rare blitz on that play, but noted they had breakdowns in all three levels of that play.
That play gave the Redskins an early 10-7 lead.
"I was proud of the guys, the way they rallied behind that and didn't let one bad play become another," Schwartz said.
He said pretty much the same thing happened when Peterson ran for an 80-yarder against his Lions team back in the 2013 opener. That Peterson run in 2013 against Detroit was actually a 78-yarder, but Schwartz was correct. The Lions limited AD to 93 yards on the ground that day. That's almost as impressive as the Eagles' giving up a 90-yard run and not letting him get to 100 yards.
The defense should be proud for the way they played after that 90-yard run. On the 'Skins' last seven drives, they had just 69 net yards on 32 plays (2.2 yards per play).
"I think our guys kept their confidence," he said. "It's one thing when you don't know what the problem is. That was an easy one. It's like, "OK, that, that, that. All right. Don't do that, don't do that, and don't do that and we're good.' Sometimes that's easier said than done.
"But I think that when you're talking about sideline and you're talking about the confidence of a team and stuff like that, it's a lot easier for those guys to put mistakes behind them when they know what they were. There was some physical nature to the mistakes, but also some execution stuff, and those are a little bit easier to put behind you."
Rasul's big play
The Eagles ended up blowing out the Redskins on Monday, but it was close into the fourth quarter and if Rasul Douglas doesn't make a huge play, there's a good chance Washington cuts into the lead in a hurry.
I had been waiting to see this angle on that big play from Rasul Douglas on MNF. He really saved the #Eagles on this trick play. pic.twitter.com/8uY3ApxMgh — Dave Zangaro (@DZangaroNBCS) December 5, 2018
"Rasul did his job on that play," Schwartz said. "He was the last line of defense and was able to get - again, a tough back and he also had to defeat Trent Williams, who is obviously one of the best blockers. That was a huge play for us at a critical point in that game. If they were able to keep that drive alive and score and all have a sudden it's a one-score game. So obviously that was a big play, and he can build off of that."
Schwartz wasn't sure if that play would have gone for a touchdown and I'm not either. It looks like someone might've eventually caught up to Chris Thompson. But there's also a chance it could have gone the distance. At the very least, that was about to be a huge play until Douglas stopped it. Give credit to Douglas. He got beat in coverage early on Monday but rebounded to make a few big tackles.
Stopping a running QB
Dak Prescott hasn't been running wild over the last few weeks, but as Schwartz pointed out, Prescott has been using his legs to pick up some big first downs.
During the Cowboys' four-game winning streak, Prescott hasn't put up eye-popping numbers on the ground. He has 21 rushing attempts for 54 yards.
But of those 21 attempts, eight of them have gone for either a first down or a touchdown (he has three rushing TDs in the last four games). He had two big first-down pickups on third down against the Saints. And of those 21 attempts, five have been kneel downs late in the last two games. So he picks up a first down or a touchdown on an incredibly high level of his rushing attempts.
The Eagles have been somewhat susceptible to running QBs this season. They have given up 30-plus yards to four different QBs this season (Cam Newton: 7 for 49, Marcus Mariota: 10 for 46 and TD, Blake Bortles: 8 for 43, Andrew Luck: 1 for 33).
So what's the key to stopping a QB from hurting you with his legs?
"Again, there are a lot of different levels," Schwartz said. "First of all, quarterbacks generally aren't running very much if you're doing a poor job of covering. It sounds a little bit funny to say that. If they have guys wide open all the way, the quarterback isn't bothering to scramble.
"When you do get guys covered, then you need to be good in different levels. Good eyes on the quarterback, good distribution in your pass rush, and then be able to close ground and be able to get guys on the ground. So, there are a lot of different layers to it."
Click here to download the new MyTeams App by NBC Sports! Receive comprehensive coverage of your teams and stream the Flyers, Sixers and Phillies games easily on your device.
More on the Eagles
Copyright CSNPhily