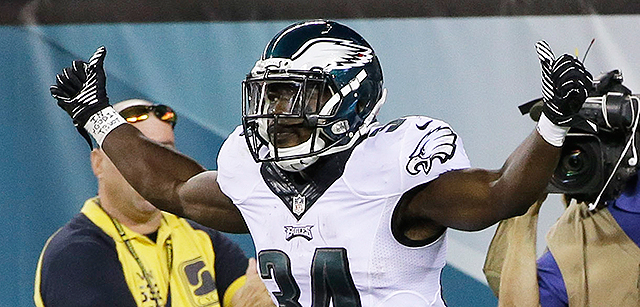 Derrick Gunn has three bullet points from the Eagles' 34-7 win over the Cardinals (see breakdown).
• What a great story Kenjon Barner was in this game. The Eagles let him walk after last season, he was with the Chargers briefly and they cut him early in September. All of a sudden he finds himself back with the Birds. Against Arizona, Barner had only 23 yards rushing, but 110 yards total on three punt returns, including a 76-yard return in the first quarter that set up an Eagles touchdown. Barner told me he never worried about whether he was going to get back into football and he was at peace with where he was in life. Coming into this game, Doug Pederson had said Barner wasn't that well-versed in the overall offense and probably wouldn't get many reps, but Barner said when running backs coach Duce Staley told him to study his playbook he knew he had to be ready. Barner ended up with five carries.

• Torrey Smith had a nice bounce-back game after having a rough couple of weeks with a case of the drops. On his 59-yard TD catch, I asked him what was going through his mind as the ball was in flight. His response, "Look the ball in and secure it." When he got to the end zone he knelt down and prayed, with the reason being, "It meant so much to me after what I was going through." He also added, when you come from where he grew up you deal adversity every day so dealing with football adversity is nothing.

• Donovan McNabb was at the game and was chatting with Carson Wentz in the locker room afterward. I had a chance to talk to McNabb and asked him what's the best advice he could give Wentz about handling the early success he's having in his career, similar to what McNabb went through early on in his career. McNabb said, "Don't get caught up in the hype, stay even keeled." A later question I posed to McNabb was about where this 4-1 Eagles team stacks up against others in the NFC. "They're as good as anybody in the conference and when they get a few players back from injuries this is a team that could go a long ways," McNabb said.
Copyright CSNPhily