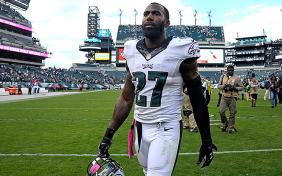 As the Eagles get ready to face the Carolina Panthers Thursday night, I had a chance to catch up with Eagles safety Malcolm Jenkins for this week's Gunn on One. Ever since Jenkins joined the Birds he's been known for making big plays, but this season he's been relatively quiet.
Here's part of my conversation with No. 27.
Gunner: Jim Schwartz said last week that you've been playing at the highest level he's ever seen you play. Do you agree with that?
Philadelphia Eagles
Complete coverage of the Philadelphia Eagles and their NFL rivals from NBC Sports Philadelphia.
Jenkins: I've been trying to search for my role in this defense that's changed since last year, and I think a little bit of that is him trying to keep me from getting frustrated. You know the things that I've done haven't equated to stats. I know my role in this defense is very, very important. This past game I played three different positions, and having to prepare for all of those it's a vital role for us to have success. It's one of those things -- whatever I think will help us win I'm going to do, but I'm definitely trying to get back to the production I once had.
Gunner: It's a short turnaround. Now you face a quarterback in Cam Newton that is so different in terms of dynamics overall compared to what you've faced in recent weeks. How do you begin to contain this man and his offense?
Jenkins: It's going to be a physical game. They do a great job of running the ball whether its Jonathan Stewart, Christian McCaffrey , of Cam himself running it. They got guys doing jet motions, and running options, quarterback draws then the next thing you know they're throwing it down field, and (Cam's) got an arm to stretch the field as well. It's one of those things you gotta prepare for a lot. You gotta have your eyes in the right place, but this is a team if you can get after him and you can stop the run it's very hard for them to spread the field, and throw the ball 50 times a game. That's not what they're built for. It starts with winning the trenches up front and winning the physicality matchups then that will allow you to get after the quarterback. If you can't match them physically then Cam turns into a really special quarterback.
You can see my extended conversation with Jenkins in the video above.
Copyright CSNPhily