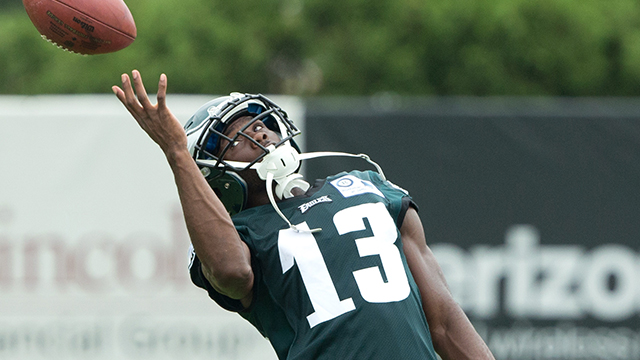 Twenty-three thousand people showed up to watch the Eagles practice at the Linc on Sunday.
The open practice was originally scheduled for Saturday but got pushed back a day, and it's a good thing it did. Sunday morning was absolutely perfect.
The team ran through a full practice for the fans, which included special teams, individual work, install, 7-on-7s and 11-on-11s.
Philadelphia Eagles
Complete coverage of the Philadelphia Eagles and their NFL rivals from NBC Sports Philadelphia.
Let's hop into the observations:
1. As always, we'll start with *clears throat* injuries. Nick Foles (elbow), Alex McCalister (hamstring) and Elijah Qualls (groin) did not practice. It looked like Donnel Pumphrey pulled up lame. We'll learn more about his injury on Tuesday.
Head coach Doug Pederson said Foles' elbow injury isn't serious.
Undrafted rookie cornerback Randall Gorforth tore his ACL the other day. Tough break for the young guy who had looked pretty good in camp so far.
2. During the team install portion of practice, Nelson Agholor made a deep catch against air (no defense) and fans gave a loud ovation. There were probably a few sarcastic cheers mixed in the first time, but Agholor went on to have his best day of camp and got huge ovations for every big play. The fans were really cheering him on, maybe trying to build up his confidence.
He beat Ron Brooks a few times in 1-on-1s and then beat Patrick Robinson deep down the left sideline for a long touchdown pass. And during the special teams period, he looked like the team's best kick returner.
I know you don't want to hear about Agholor impressing during practice and I get it. Until he does it in games, it just doesn't matter. So if you want to ignore his performance in training camp, I don't blame you. But on Sunday, he looked good. He even got some first-team reps working out of the slot, which might be the best spot for him.
3. The 1-on-1 drills between wide receivers and defensive backs are a little unfair. They're just easier for receivers because in a normal game, corners sometimes have help.
Still, the Eagles receivers absolutely wrecked their defensive backs in 1-on-1s Sunday. It was a massacre.
It started when Jordan Matthews went up over Malcolm Jenkins and hauled in an impressive one-handed catch.
Then Agholor beat Ron Brooks. Then David Watford beat Rasul Douglas deep. Then Shelton Gibson pulled a crazy move on Mitchell White. Then Bryce Treggs sped past Jaylen Watkins for a touchdown. Then Mack Hollins and Paul Turner pulled off impressive moves. Torrey Smith erupted past Robinson down the sideline. Alshon Jeffery pulled up for a catch on Jalen Mills and the next time Mills got called for holding.
You get the picture. It was great for the receivers, but ugly for the DBs.
4. The defense bounced back some, though. The next period was 11-on-11s and the first time Carson Wentz rolled right to pass, Jenkins got into the action to break it up. A couple plays later, Mills broke up a pass intended for Agholor.
The offense crushed them on Saturday, but it wasn't that way on Sunday. Wentz still had a pretty good afternoon but couldn't match the perfect practice he had a day before.
5. It's becoming an everyday occurrence, but Terrence Brooks made more plays on Sunday. He intercepted a deep Matt McGloin pass that was intended for Mack Hollins. And in the 1-on-1s, where every DB was getting roasted, he let Greg Ward catch a pass in front of him but immediately hammered him to the ground.
6. Torrey Smith had another really good day on Sunday. We mentioned it earlier, but in the 1-on-1s, he showed he still has the ability to be a burner. He really turned on the jets to beat Robinson down the field. A little later, in 11-on-11s, Smith caught a pass and pulled off a spin move that left Robinson diving at the empty space where he used to be.
7. Let's talk about Robinson for a second. He struggled again on Sunday. He's been getting beaten and has almost enough speed to recover, but then can't. A lot of times, he's just diving to get close. In 7-on-7s, he gave a hefty push to Donnel Pumphrey on the sideline during a play. Maybe he was letting some steam off.
8. Jeffery and Mills are matched up often. That lets you know what the coaching staff thinks of Mills. Jeffery wins most of the battles, but Mills has the ability to not get shaken. Working against better receivers every day should make the young cornerback get better.
9. The fans were great at the Linc on Sunday. The Eagles estimated about 23,000 people were there and I believe it. The lower bowl was almost full. No surprise but perhaps the biggest cheers of the day came when the big screen showed Eagles great Brian Dawkins. Dawk is still the biggest fan favorite. Just image the message that sends to a young rookie like Derek Barnett. If everything in his career goes right and he plays great and hard, he can become immortal in this city.
10. The Eagles are off on Monday. It's the first off day of training camp. They'll be back in action on Tuesday and will have their first live (tackle to the ground sessions). It should be fun.
"Well, again, the biggest thing and the main thing is we want to keep conditioning our players with the physical nature of contact," Pederson said. "Obviously come away healthy, but at the same time being in proper position to make tackles, let our running backs feel that extra hit.
"I think it's a short yardage and goal line day, so that's the only way you can do those periods, is live, to get the proper work out of it and work those situations."
Copyright CSNPhily