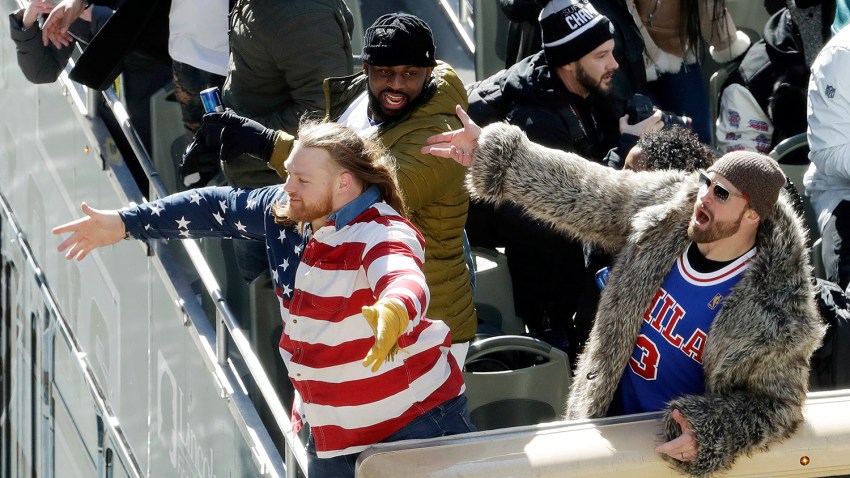 The Columbus Panhandles were an NFL team from the 1920s whose players worked in the Central Ohio panhandle shops of the Pennsylvania Railroad.
The Dayton Flyers also played in the 1920s, and their roster was composed mainly of workers from the Dayton Metal Products Company.
Philadelphia Eagles
Complete coverage of the Philadelphia Eagles and their NFL rivals from NBC Sports Philadelphia.
The Decatur Staleys were made up of workers at the Staley Manufacturing Plant in Chicago (and later became the Bears).
That was the early NFL, before it was even called the NFL. Many of the teams had been around for years, playing as sandlot teams or semi-pro teams before the formation of the American Professional Football Association - which became the NFL when league owners met in 1920 at the Hupmobile showroom in Canton, Ohio.
The early history of the NFL is a fascinating one. Most teams were based in industrial midwestern towns and made up of local athletes from those towns, and so they really reflected the personality of those towns.
Teams came and went before the league developed some stability in the early 1930s. The institution of a college draft in 1933 meant rosters were no longer mainly comprised of local athletes. The league grew and changed and evolved over the years, eventually into the multi-billion industry it is now.
Which brings us to the 2017 Eagles and why this team is so special and so unique.
I've never seen a team that is a better fit for its city than this one.
Times have changed and the modern NFL has very little in common with the old APFA of a century ago. But what this team does share with those teams is a very deep, strong and profound bond between the players and the fans.
Just like those factory workers who were the early pro football players in Columbus and Dayton and Chicago and all those other Midwestern industrial towns truly represented the towns they came from, so does this group.
It's different, of course. These guys didn't grow up here. They haven't spent their lives here. But, man, they get this city and what we're all about.
Something unique and something beautiful happened here these last few weeks and month, and it's something that goes beyond simply a really good football team winning a bunch of games and then a Super Bowl.
No, this was far more meaningful to both the team and the players because there is such a unique bond there, one you rarely find in sports.
There's no question that we as a city can appreciate this team more than any other Super Bowl champion has ever appreciated its football team.
Part of it is simply the 57-year wait. The longer you wait, the sweeter the payoff. And 57 years is an awfully long time.
But that's only the start.
The more time I spent around this 2017 Eagles team, the clearer it was that its working-class personality was genuine. Every team calls themselves working class. But this team is filled with guys who legitimately have gotten where they are simply through sheer hard work, quieting doubters and overcoming adversity.
Think about it.
Rodney McLeod, Trey Burton and Corey Clement were undrafted. Jason Peters, too. Jason Kelce, Jalen Mills and Beau Allen were drafted in the sixth or seventh rounds. Brandon Graham, Mychal Kendricks and Vinny Curry were at one point labeled high-round busts.
The Patriots didn't want LeGarrette Blount or Chris Long. The 49ers didn't want Torrey Smith. The Bears didn't want Alshon Jeffery. The Rams and Chiefs didn't want Nick Foles. The Saints wanted no part of Patrick Robinson. The Dolphins didn't want Jay Ajayi. The Bengals didn't want Jake Elliott. The Ravens didn't want Tim Jernigan.
Heck, Kenjon Barner, Bryan Braman, Dannell Ellerbe and Will Beatty weren't even on NFL rosters for much of the season.
They were all too small, too slow, too old. They were all told they weren't good enough, but put them together and they were better than any football team in the world.
And nobody has overcome more than Doug Pederson, who was released five times in his playing career and managed to stick around in the NFL 14 years just through hard work and determination, then faced all the same questions as a coach. Not smart enough. Not experienced enough. Not savvy enough.
Philly has always been a city that has always proudly worn that underdog tag, and it probably goes back to being wedged halfway between Washington and New York.
But it goes way deeper than that. Philly is a city where if someone says we can't do something, it doesn't break us, it makes us want to achieve something more. Philly is a city where the more we're doubted the harder we go to try and prove people wrong.
We aren't a city of first-round picks or big-money free agents. Like the Eagles, we're made up of undrafted rookies, late-round draft picks and waiver wire acquisitions.
That's at the heart of this symbiotic relationship.
Philly is a different kind of place. We have a chip on our shoulder because we've been looked down on for so long by the cities north and south of us, by the national media and their tiresome Santa Claus narratives, by cackling Cowboys fans clinging to their distant memories of Aikman, Irvin and Smith.
We are a city of undrafted free agents and late-round draft picks.
So the Eagles players can appreciate us and relate to us just as much as we appreciate and relate to them. We are one. One city. One team.
And that's what makes all of this so special.
We relate so deeply to them, and they do as well to us.
Every one of those members of the 2017 Super Bowl-champion Philadelphia Eagles riding up Broad Street Thursday looked out at the millions of people on the parade route and saw themselves.
Copyright CSNPhily