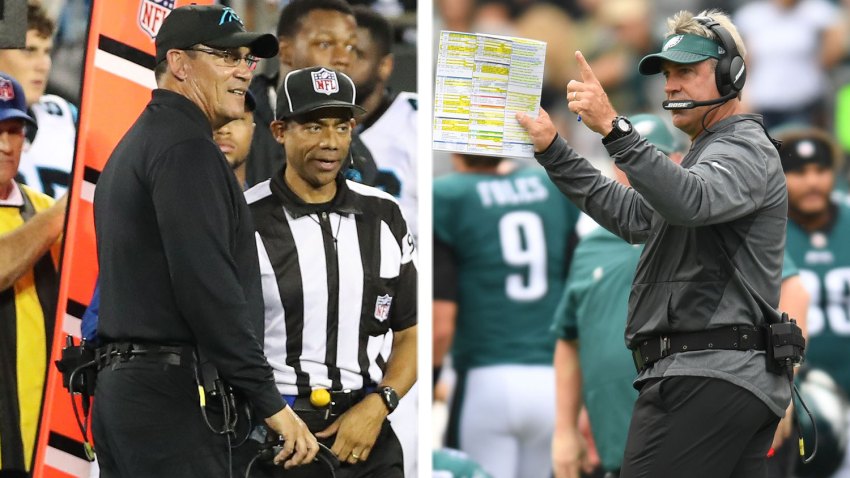 There were plenty of people who were surprised last year when Jeff Lurie decided to hire Doug Pederson as the Eagles' head coach.
Ron Rivera wasn't one of them.
Philadelphia Eagles
Complete coverage of the Philadelphia Eagles and their NFL rivals from NBC Sports Philadelphia.
The head coach of the Panthers, the team the Eagles will face on Thursday Night Football, has known Pederson for nearly 20 years. Back in 1999, when Pederson was brought to Philly by Andy Reid to be the Eagles' quarterback until Donovan McNabb was ready, Rivera was brought in to coach linebackers.
At the time, Rivera was a 37-year-old getting a position coach job for the first time and Pederson was a 31-year-old quarterback finally getting the chance to start.
Pederson spent just one year with the Eagles as a player but he left enough of an impression that 18 years later, Rivera didn't hesitate to answer this question.
Did you think then that Pederson could be a head coach?
"Oh yeah," Rivera said on a conference call with Philadelphia reporters on Tuesday. "If coaching was going to be the path he took, I had no doubt that this young man was going to get the opportunity. He's so smart, he's a hard-worker and he's got the passion to want to win.
"You look at what his situation was when he got to Philadelphia with Andy and you can see him help with the development of Donovan. He was right there. He was what you hope to have in a guy that's coming in to be in that role. And that's exactly what he did. I just remember saying a couple times, 'he's going to be a good coach one day.'"
Rivera remembers Pederson as a team player in '99. He said Pederson was in a "tough" situation back then and the Eagles simply weren't very good. "He stood tall and never complained about anything," Rivera remembered.
The two went their separate ways after 1999. Pederson went on to stay in the league as a player for five more seasons before eventually beginning his ascent in the coaching ranks. Rivera had three stops before the Panthers hired him as a head coach in 2011.
Now both head coaches, they're just two of several who have learned under Reid and then got a team of their own to lead.
"I just think the one thing [Reid has] done, and personally in my case, is he allows his assistant coaches to grow within the system, within the offense or defense," Pederson said. "So the defensive guys, back when they were under Jim Johnson, when they were here, have flourished. And listen, it helps to have successful seasons, too, and good offenses and good defenses. Whether they have gone on to get other coordinator jobs or what, if they were a position coach and just watching their careers over time and the success that they have had, that's the biggest thing. He just allows you to work and to grow and further your career that way."
Rivera's first two seasons at the helm in Carolina didn't go that well. The Panthers went 6-10 his first season and 7-9 in Year 2. It wasn't until the third season that they made the playoffs. They lost in the divisional round in 2013 and 2014 before making it to the Super Bowl, losing to the Broncos, in 2015.
That's probably why Rivera understands patience. And it's probably why he thinks Pederson has done a pretty good job so far.
"I think he's done outstanding," Rivera said. "I think last year was one of those things where they got off to a hot start and expectations rose way too quick for them, to be fair. I think right now, they're exactly where they should be. I think that first year is always tough and you just try to win as many as you can but at the same time, you have to temper your expectations. I think he's done a great job with that. I love the way they've come out. I like the energy and the way he coaches."
No Fletch, no problem
The Eagles have been without Fletcher Cox for the last two games and the defensive line has held it together. Sure, the Eagles really miss their best defensive player but Beau Allen has played well in his place and Tim Jernigan has taken his game to a different level.
"They're just taking it upon themselves," Pederson said. "I did challenge the D-line last week [that] we've got to generate some pass rush and they were able to do that last week and create some edges and it just boils down to each man just doing his job and doing his assignment. Whether your top pass rusher is there or not, you've got to figure out ways. With [Jim Schwartz] and (defensive line coach) Chris Wilson, they are utilizing the stunt games and line games and things that create some edges for the D-linemen to get to the quarterback."
In place of Cox, Allen and Jernigan have gotten most of the work, but Vinny Curry and Brandon Graham have been playing inside on third downs. And Elijah Qualls and Justin Hamilton have gotten snaps as well.
In addition to Cox, the team has also been without fourth option Destiny Vaeao, who is questionable heading into Thursday's game.
Seeing Seumalo?
Isaac Seumalo, who began the season as the Eagles' starting left guard, has been inactive for the past two weeks, but should dress on Thursday because of Lane Johnson's concussion. That doesn't mean he'll get playing time at his old post.
The Eagles are going to continue their left guard rotation on Thursday, but Stefen Wisniewski will start and get most of the snaps, with Chance Warmack rotating in occasionally.
There's a chance we could see Seumalo, though. This season, the Eagles have used Halapoulivaati Vaitai as an extra tackle/tight end in some run formations. "Big V" won't be able to do that against the Panthers because he'll be starting at right tackle.
Maybe we'll see Seumalo fill that extra tackle spot on Thursday.
"Yeah, we train all - we pretty much have all of our offensive line ready to step into that role," Frank Reich said. "It just depends, by game plan, how much of that we want to do, depending upon certain things that they do schematically [and] certain personnel matchups. Sometimes in coverage, we're trying to do things where sometimes when you're - well not to get into some of the details - but there's just certain different ways we like to use it, so that's why it's important those guys all know how to play that position."
Quote of the Week I: "Yeah, I mean it's a lot easier when you don't have to do the long press conferences, then you can get back to work." - Schwartz on dealing with a short week
Quote of the Week II: "When you go in there, there's a bunch of old people in there. Sitting in the cold tub, laying down, just getting their bodies right." - Rasul Douglas on the Eagles' cold tub room this week
Quote of the Week III: "The celebration was pretty good. I have to admit. It was good." - Reich on the Eagles' baseball celebration on Sunday
Random media guide note: Something on Najee Goode's bucket list is a HALO jump - a 30,000-foot skydive at a small landing target.
Copyright CSNPhily