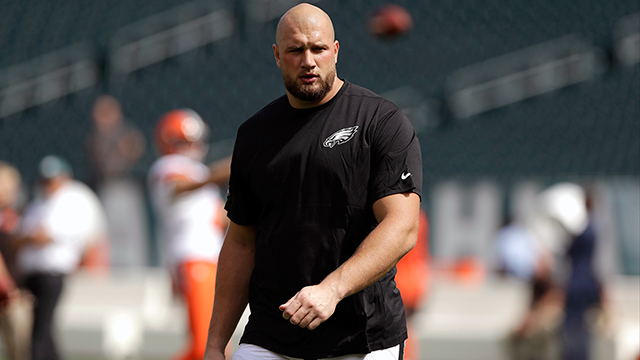 It turns out it wouldn't have mattered if the Eagles played the Panthers on Sunday instead of Thursday. Lane Johnson would still have missed the game.
The veteran right tackle didn't clear the NFL's concussion protocol until last Monday. But he'll be back in action on Monday night against Washington.
For Johnson, the Panthers game was the 11th game he's missed since the start of the 2016 season after he missed 10 last year because of his PED suspension. Watching the game last week was an all-too-familiar feeling.
Philadelphia Eagles
Complete coverage of the Philadelphia Eagles and their NFL rivals from NBC Sports Philadelphia.
"I didn't like it," Johnson said. "I didn't like it at all, to be honest with you. As much time as I've been away from this building the last two seasons. I feel fresh, feel rejuvenated and ready to get back out there."
Johnson watched Thursday night's game at his house with his wife, but he didn't watch the whole thing. He watched some, took a break, and then watched the end. He said he knew the Eagles were going to win.
Halapoulivaati Vaitai started the game in Johnson's place and did OK. After a horrendous start, Big V settled in and played fairly well. Johnson was impressed and thinks Vaitai is "becoming the player he's meant to be." Johnson remembered things didn't click for him until around his ninth NFL game. Thursday's was Big V's seventh career start.
Vaitai played OK, but the Eagles are clearly much better with Johnson in the lineup and they'll need him this week as he'll see plenty of veteran pass-rusher Ryan Kerrigan.
The concussion Johnson suffered in the first half against Arizona was the first of his career. The Eagles pointed out a couple of plays where it could have happened but Johnson didn't remember when it happened. He just knew he didn't feel right when he went into the locker room at halftime. Unless the concussion happened on the last play of the half - it didn't look like it - Johnson played concussed for at least some of that game.
It took about a week for Johnson to feel normal again.
"I'm fresh," he said. "I think I'll be a different animal. That's all I'll say."
The great escape
Malcolm Jenkins is a busy man. Between all the work he does to fight against social injustice, running his foundation and owning a clothing store, he has a pretty hectic life.
But when he gets to the NovaCare Complex all Jenkins has to worry about it football.
"When I step into this building, this is my escape from everything else," he said this week. "Life is kind of hectic outside of these walls but here, this comes easy. It's one of those things that I put a lot of time in this building, watch a lot of film, work hard out there on the field and the weight room. This has become easy for me. This has become the peaceful part of my week."
Jenkins is 29 now, but his play hasn't dropped off even a little bit. He's still one of the most important pieces of the Eagles' defense.
In typical fashion, Jenkins has played all 384 defensive snaps this season. He's the only player on the Eagles' defense to be in for every play.
"I feel like I'm having a solid season," he said. "Obviously, statistics aren't very alarming but I'm not missing any plays. I'm getting guys lined up. It's just one of those things where I think everybody is concerned about their role in the team. As long as we're winning, I'm happy."
Let's get physical
During his conference call with Philly reporters this week, Washington head coach Jay Gruden made a somewhat surprising confession. He thinks the Eagles were more physical than his team in Week 1. He also said that's the only time it's happened to his team this season.
"I think it's just always a physical hardcore matchup that's fun to watch," Gruden said.

That's a pretty big compliment to the Eagles and their front office. Howie Roseman always talks about the importance of building a team in the trenches and that's been the hallmark of the team this year. They've been good on the line on both sides of the ball.
Quote of the Week 1: "We're made different this year. We have a different character makeup in that locker room, and nobody's going to ever settle for anything less than greatness." - Carson Wentz (see story)
Quote of the Week 2: "I think a lot of people get caught up in these numbers. I think there's too many fantasy football players in the world." - Gruden on Alshon Jeffery's impact with the Eagles
Quote of the Week 3: "I was there. Joe Jurevicius on a jerk route. Took it 80." - Gruden on the last game at the Vet. He was there.
Random media guide note: Steven Means' favorite meal is cereal. He enjoys Frosted Flakes and Cinnamon Toast Crunch.
Copyright CSNPhily