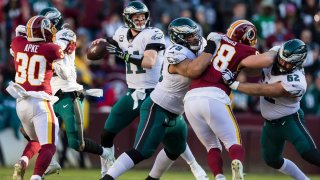 Another routine last-minute comeback win over a terrible team.
Exciting win. Eagles are back at .500. They have something to play for Sunday against the Cowboys.
But let's not kid ourselves. This team has some very serious issues. In the small picture, nice comeback win. In the big picture? They are a long way from being an elite team.
Philadelphia Eagles
Complete coverage of the Philadelphia Eagles and their NFL rivals from NBC Sports Philadelphia.
Let's take a look at the Eagles' second-straight comeback win over a lousy team, this one 37-27 over the Redskins at FedEx Field in which the Eagles trailed with half a minute left.
1. Three opponents. Combined record of 7-30. Three monumental struggles. I honestly don't want to talk much about the playoffs because let's be serious, even if the Eagles do back their way to the NFC East title, then what? This is not a good football team right now. In the span of 15 days they blew a 14-point lead against a 2-10 Dolphins team, fell behind by 14 points against a 2-10 Giants team and had to scramble in the final minutes to beat a 3-10 Redskins team. With the Eagles playing for a playoff berth and the Redskins playing out the string while their owner is entertaining head coaching candidates in his private box they couldn't go down to Landover and just beat the crap out of this team?
2. How good is Miles Sanders? My goodness. In a game where the Eagles' patchwork collection of wide receivers was doing nothing, Sanders was massive and really kept the Eagles in the game with big play after big play. He finished with 172 scrimmage yards, including 122 on the ground. The kid is special, and he's not just talented but really seems to have a knack for coming up big at critical moments. He's broken every Eagles rookie rushing and scrimmage yards record with two weeks to go. And he's getting better every week. There's not a lot of exciting young talent on this roster, but Sanders is a flat-out stud.
3. Carson's final numbers look really good. He was 30-for-43 for 266 yards, three TDs, no INTs and a 109.3 passer rating. He made some incredible throws, like the TDs to Miles Sanders and Greg Ward. And two straight late comeback wins speaks volumes. But the fumbles are an enormous issue, and the Eagles got lucky because one Carson fumble was ruled an incomplete pass after a replay review and another was recovered by the Eagles. But the third one nearly cost them the game. It's got to stop. It's gotten to the point where every time Wentz is sacked you're surprised if he holds onto the ball. I get that he has nobody to throw to half the time, so he's standing in the pocket too long trying desperately to make a play. But his pocket awareness and ball security have been terrible, and that has to be a major focus of his offseason. But … he's making plays and winning games with a skeleton cast, and he deserves a ton of credit for that.
4. Just to put this in perspective: Dwayne Haskins was making his 6th NFL start, had the lowest passer rating among the 32 current NFL starting quarterbacks, was averaging 160 passing yards per game and had thrown 3 TDs and 7 INTs. How on Earth do you let that guy throw a career-long 75-yard TD, run a career-long 22 yards to set up another TD and finish 19-for-28 for 261 yards with two TDs and no INTs with a 121.3 passer rating? Even a mediocre NFL defense harasses an overmatched kid like Haskins and blows this team out. The Eagles led him throw the ball up and down the field. Good for Avonte Maddox getting a sack on the final play of the game and forcing a fumble that Nigel Bradham returned for a touchdown. But it never should have gotten to that point. Ever.
5. Watching Greg Ward make big catch after big catch I can't help thinking … "Nelly never would have made that play." The Eagles still need two outside wide outs, but Ward is one heck of a slot receiver. He was 7-for-61 Sunday, including an incredible effort on the game-winning TD with 32 seconds left. The kid has 19-for-140 in four games since getting promoted from the practice squad. He's made more plays in the last few weeks than Nelly's made the last two years. Why did it take so long for the Eagles to realize what they had? That's a question for another day. All I know is the kid is legit.
6. It's a different person every time, but these big plays are just absolutely killing the Eagles. This time it was Maddox not only missing a tackle but getting in Jalen Mills' way and letting Terry McLaurin go 75 yards in the first quarter. The Eagles have allowed a league-high SIX TD passes of 50 yards or more, TWICE what any other team had allowed coming into play Sunday and the most in franchise history. That number is ridiculous. And it's been a different guy every time.
7. I never would have dreamed the Eagles wouldn't be able to pressure Haskins. The kid had taken 26 sacks this year on just 186 drop-backs. That's a TON. That's a sack every 7.2 drop-backs. Sunday he dropped back 24 times and the Eagles couldn't get near him. Haskins was getting sacked five times a game. He wasn't sacked. The d-line is supposed to be a strength of this team. Pass rush was supposed to be a strength of this team. How do you not even get close to a guy getting sacked every seven drop-backs?
8. The defense doesn't give up a touchdown every time the offense scores one. It just seems like it. It happens wayyyyy too often. The only way to build up any momentum and avoid having to win games over bad teams in the final seconds is to get solid play out of both sides of the ball at the same time, and that's just been elusive for this team. They've found ways to win the last two, but the way they're playing isn't exactly inspiring confidence.
9. It's been a tough year for Dallas Goedert with drops and fumbles, but that diving one-handed catch he made for 20 yards down to the Redskins' 25-yard-line was enormous. Probably the best play he's made. On a day when Ward was the only Eagles WR to catch a pass, the backs caught 13 for 89 yards and the tight ends caught 10 for 116 yards. And the Eagles needed every one of them.
10. I really didn't want to keep harping on J.J. Arega-Whiteside vs. Terry McLaurin, but how can you not? McLaurin again torched the Eagles. Yeah, they're both early in their careers, blah blah blah. JJAW had a drop in the end zone — would have been a tough catch, but it was in his hands — and committed a costly penalty. McLaurin — who was on the board when the Eagles drafted Arcega-Whiteside — had 5-for-130 on top of his 5-for-125 in the opener against the Eagles. McLaurin is going to go over 1,000 yards. JJAW is averaging 9 yards per game. Whether this on Howie or Joe Douglas nobody knows. What we do know is it's pretty clear the Eagles completely missed on this one.
Click here to download the MyTeams App by NBC Sports! Receive comprehensive coverage of your teams and stream the Flyers, Sixers and Phillies games easily on your device.
More on the Eagles
Copyright CSNPH - CSN PHI