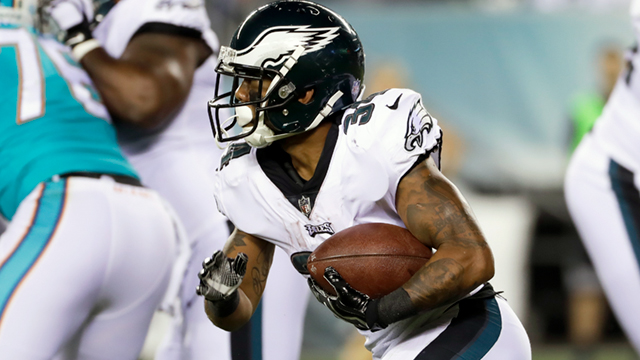 On Sunday, as the Eagles began preparations for their fourth and final preseason game, head coach Doug Pederson said rookie running back Donnel Pumphrey is "right where I expected him to be."
Pumphrey's expectations were apparently a little different.
Philadelphia Eagles
Complete coverage of the Philadelphia Eagles and their NFL rivals from NBC Sports Philadelphia.
"I mean, I'm definitely not where I want to be," the rookie fourth-round pick said. "I feel like I'm definitely developing as a player and I feel like I'm getting better. I definitely feel like I have a long way to go. Comfort-wise, I feel comfortable with the playbook and with the role they have me playing. I definitely feel like I can do a lot better."
It hasn't been an easy summer for Pumphrey, the 132nd pick in the draft.
At San Diego State, Pumphrey set the FBS all-time record by tallying up 6,405 rushing yards. In college, he was a bell cow running back. But his 5-foot-9, 176-pound frame didn't seem to be built for the same workload in the NFL, so the Eagles have been using him in a much different role. He's been in the backfield, lined up in the slot and even out wide. The Eagles seem convinced he can make it in the NFL in the same way his much older teammate Darren Sproles has.
So Pumphrey isn't just adjusting to the much faster pace in the NFL; he's also basically adjusting to a new position.
"At the beginning, it was a lot more difficult than it is now," Pumphrey said. "But I'm definitely adjusting to it. I realize if I want to make this team, I have to do whatever it takes, whether that's playing slot receiver or third-down back. I just feel I'm going to do whatever it takes."
There are plenty of fans who have seen enough of Pumphrey in three preseason games to think he should get cut later this week. While it's true Pumphrey has had a rocky start to his NFL career, cutting a fourth-round pick this early in his career would be somewhat of a surprise.
In fact, the last time the Eagles cut a fourth-round pick after training camp was in 1997 when safety Damien Robinson got the boot. Just last season, though, the Eagles did move on from safety Blake Countess, whom the front office originally listed as a late-round player it really liked.
Either way, Pumphrey can't get too caught up in a history lesson. He can't think about how rare it would be for someone drafted as high as him to get cut. He just has to do everything he can to make the team.
"Honestly, I feel like it comes down to this last game," Pumphrey said. "Corey [Clement has] been playing really well, practiced really well this whole camp. Byron (Marshall) has showed up a lot as well. I have to bring my A-game this week."
Pumphrey started to show more in the last preseason game against Miami and that might not be a coincidence. Against the Fins, he carried the ball 12 times for 37 yards (not great), but also caught five passes for 37 yards. In a game where Pederson and the offensive coaches game-planned a little more, Pumphrey was able to make something happen.
That shouldn't really be a surprise. Pumphrey's strength is in creating mismatches. If the play-calling isn't designed to do that, Pumphrey obviously wouldn't be as effective.
"I think he can only get better now when we start game planning and start honing in on our defenses and things like that during the week," Pederson said.
And Pumphrey agreed.
"Oh yeah, most definitely," he said. "I felt like the game against Miami, the coaches did a great job of getting me out in space, whether it was catching screens or third-down situations. Finding 1-on-1 situations.
"I feel like that's probably where they're going to use me a lot, whether it's this year or next year. We have a guy like Sproles and I know they want me in similar situations."
The Eagles will have tough decisions to make when whittling down the roster by 4 p.m. on Saturday. Pederson specifically mentioned the "exciting" running back competition as one of the battles that stands out heading into the final preseason game.
"It will be interesting this week to see how that plays out," Pederson said.
Pumphrey is just focused on trying to stand out as much as he possibly can. Fourth-rounder or not, he's fighting for a job and to catch up to his high expectations.
Copyright CSNPhily