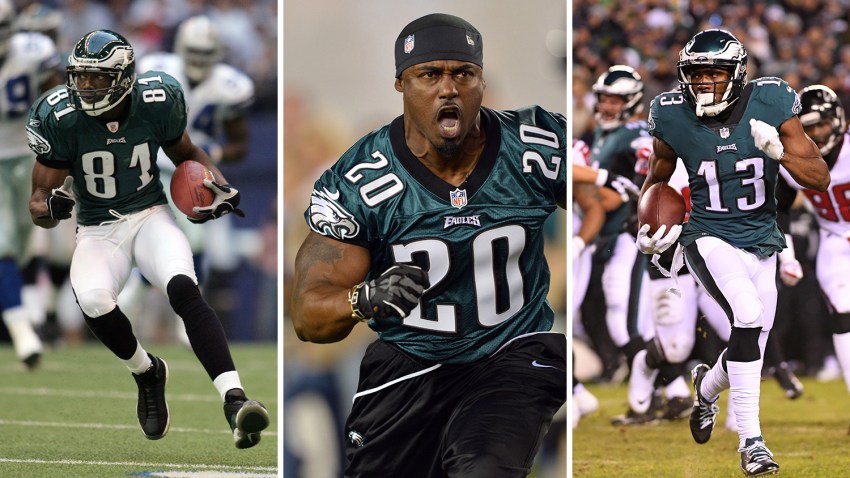 BLOOMINGTON, Minn. - One day left until Super Bowl LII finally gets here, and it's a happy edition of Roob's 10 Random Eagles Super Bowl Observations because it starts with …
1. Dawk is a Hall of Famer (see story).
2. That deserved its own line. But let me share a quick story. It was the day before the Eagles left Lehigh for the 2006 Hall of Fame Game in Canton, and I wanted to talk to Dawk about about one day maybe being a Hall of Famer. Dawk at that point was getting ready for his 11th NFL season and his career was already remarkable, although he would go on to make four more Pro Bowls, three of them with the Eagles. I waited and waited and waited for Dawk, who was out on a practice field talking to Sean McDermott, now the Bills' head coach but back then the Eagles' assistant defensive backs coach. Eventually, there was nobody left at the entire compound except Sean and Dawk, talking intensely as the sun blasted down on them, and me standing there watching from 40 yards away. Finally, after close to half an hour of intense conversation, they began walking over toward me, and I asked Dawk what they had been talking about. And he said, "We were just talking about the Hall of Fame and what it takes to become a Hall of Famer and what it means to be one and the level of play I need to continue playing at if I'm going to one day become one." Dawk always wanted to be the best ever, and on Saturday he was recognized that way. Nobody is more deserving.
Philadelphia Eagles
Complete coverage of the Philadelphia Eagles and their NFL rivals from NBC Sports Philadelphia.
3. As for T.O., I can't say I'm happy for him. I don't particularly like him or care about him. I saw the effect he had on that 2005 Eagles team. He set out to destroy the Eagles from the inside because he was unhappy with his contract, which really speaks volumes about what he was all about as a player and a person. But this is the Hall of Fame, not the Hall of Teamwork or Hall of Unselfishness. There's no denying the numbers. He was definitely deserving (see story).
4. I keep having this vision of Alshon Jeffery having a huge game Sunday. Alshon has been strong in the postseason so far, with nine catches for 146 yards and a couple touchdowns against the Vikings. I don't think the Patriots can cover him. I don't think they can stop him. I think he has a T.O. 2004 Super Bowl type of game.
5. I spent a few minutes Thursday just watching a very self-assured, very relaxed, very poised Nelson Agholor sitting on a podium surrounded by TV cameras and microphones fielding all sorts of questions about Nick Foles, about Doug Pederson, about Alshon Jeffery, about the Super Bowl, and I couldn't help think … "THIS GUY COULDN'T CATCH A PASS AND GOT BENCHED LAST YEAR." And look at him now. It's just remarkable how far Agholor has come. From a guy who caught 11 passes for 99 yards the entire second half of last season to a playing a major part on a Super Bowl team. I asked him if he's taken a moment to reflect on the last year and he said he hasn't. Which probably is another sign of how far he's come. "I'll be able to process it when it's all said and done," he said. "The most important thing right now is to get my energy and my focus and for us to get the job done. And when I'm home in the offseason with my family, we can give hugs and I can thank them, but right now the most important thing is to get the job done. Just being here isn't my dream. I feel like a lot of my teammates understand that and feel the same way. I don't want to just be here. Being on this podium is cool and we appreciate being here, but at the end of the day getting the job done is the most important thing."
6. So how much sleep do you think you'll get tonight?
7. Interesting to note that the Patriots have never scored in the first quarter of their seven Super Bowls under Bill Belichick. But they've also only allowed one touchdown in those seven first quarters and 15 total points. The Patriots are so good at adjusting and finishing strong. Of their five Super Bowl wins, they've only led going into the fourth quarter twice. They are just never out of a game, which we obviously saw last year. Then again, the Eagles are pretty darn good late in games as well. They haven't allowed a second-half point in their two playoff games, and they've outscored their last five opponents 45-15 after halftime. But the Patriots are 184-22 when leading at halftime, including a 48-2 mark in their last 50 games. They're 19-4 under Belichick in the postseason when they lead at halftime. I feel like it's really important for the Eagles to get off to a strong start. Be physical early. Set a tone that, "Hey, we belong here as much as you!"
8. Nick Foles has handled himself so well this week. Definitely not wide-eyed or in awe of the moment. If he's overwhelmed, it's not showing at all. Two months ago he was an anonymous backup running scout team with Shelton Gibson, Marcus Johnson and Greg Ward. On Sunday, he starts in a Super Bowl. God, I love sports.
9. Time for my pick. I just feel like the Eagles have the edge up front on both sides of the football. I expect the Eagles' offensive line to give Nick Foles time to throw and give the running backs room to run and their defensive line to overwhelm the Patriots' offense and wear down New England's o-line. The strength of the Patriots is the greatest quarterback of all time. The strength of the Eagles is their two lines. And I'll take the team relying on two dominating lines over the team relying on a 40-year-old quarterback. I'm going Eagles 27, Patriots 20, and Philly celebrates an NFL championship for the first time in 57 years.
10. Nick Foles Mind-Boggling Stat of the Day: Postseason performances with 69 percent accuracy and no interception in Eagles history: Nick Foles 3, Every other Quarterback in Franchise history: 0.
Copyright CSNPhily