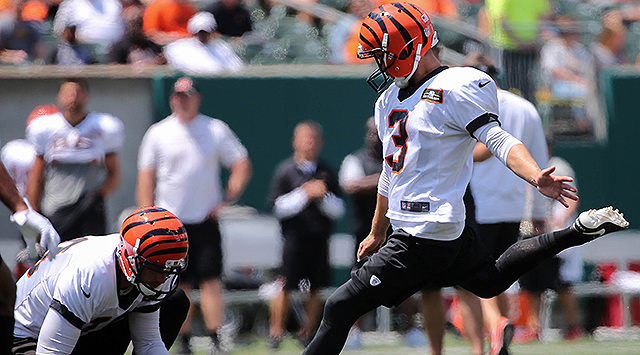 Sometimes the internet is a wonderful place.
Since basically, no one wants to listen to Joe Buck call a thrilling Eagles 61-yard game-winning field goal, we scoured the web to find four other amazing versions of Sunday's sensational ending to the Eagles' 27-24 victory over the New York Giants.
1. Merrill Reese and Mike Quick on 94.1 WIP
The legendary voice of the Eagles since 1977, Reese, along with former Eagle Mike Quick, delivers a call that will shoot shivers up your spine.
Philadelphia Eagles
Complete coverage of the Philadelphia Eagles and their NFL rivals from NBC Sports Philadelphia.
Video with call pic.twitter.com/VpyMaQDGUr— Nick Piccone (@nickpiccone) September 24, 2017
2. Spanish Broadcaster Ricky Ricardo
A longtime voice of the Phillies and now the Spanish voice of the New York Yankees, Ricardo delivers with this enthusiastic call.
One of the best moments of my sports writing career. Story for @ESPN on Yankees/Eagles Spanish announcer Rickie Ricardo. Elliott GW FG call: pic.twitter.com/lRl04yS6Jm— Jon Gold (@TheCoolSub) September 24, 2017
3. Celine-a-Scene
A phenomenon that has taken over the web, adding inspirational music from Titanic makes everything just a little bit better.
JAKE ELLIOTT FOR THE WIN!!! A 61 YARD FIELD GOAL FOR THE WIN!!! EAGLES BEAT THE GIANTS AT THE BUZZER!

IT'S BETTER WITH TITANIC MUSIC!

🏈🚢🎶 pic.twitter.com/k20EjW0nRt— 🚢Titanic TD🏈 (@TitanicTD) September 24, 2017
4. *Record Scratch* *Freeze Frame*
A staple movie cliché from the '80s and '90s, the record scratch, freeze frame plays itself perfectly in this moment.
pic.twitter.com/KNnzKgxB6L— FINER! (@tomfiner) September 24, 2017
Copyright CSNPhily