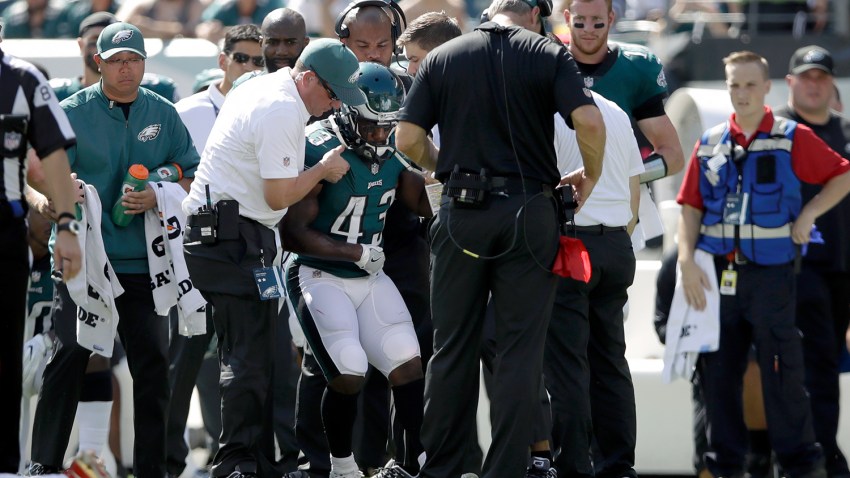 It appears the Eagles have lost running back Darren Sproles for a while.
Sproles, according to NFL Network's Ian Rapoport, suffered a broken arm in Sunday's 27-24 victory over the Giants and is out indefinitely.
Sproles left the game early in the second quarter with what was announced as a wrist injury and did not return after running the ball three times for 11 yards.
Philadelphia Eagles
Complete coverage of the Philadelphia Eagles and their NFL rivals from NBC Sports Philadelphia.
Kind of a freak injury for Darren Sproles today. It looked like his right wrist got kicked by Darian Thompson. pic.twitter.com/pVucZjEkco— Dave Zangaro (@DZangaroNBCS) September 25, 2017
Despite his loss, the Eagles' run game thrived. Wendell Smallwood, LeGarrette Blount and Corey Clement combined for 160 yards rushing and two touchdowns on 30 carries.
Veteran Torrey Smith, for the time being at least, will take over as the Eagles' punt returner. Smith returned one punt Sunday for nine yards. He tweeted it was his first punt return since high school.
2007...as a senior at Stafford High School 😂😂😂😂 https://t.co/lP3zUcPMUY— Torrey Smith (@TorreySmithWR) September 25, 2017
The 34-year-old Sproles seemed to be contemplating retirement after last season, his 11th in the NFL, but backed off this spring during OTAs.
"We're gonna see," Sproles said in June. "Right after we make the playoffs, then come back and ask me."
Copyright CSNPhily