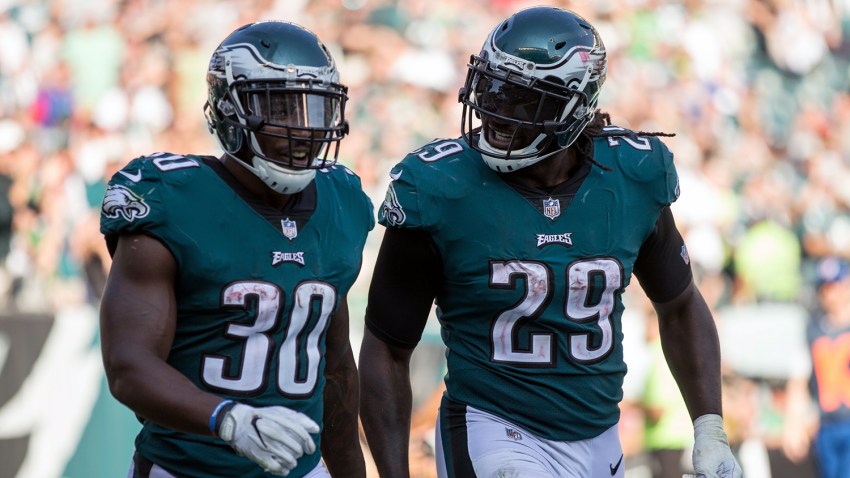 Five bullet points from the Eagles' 27-24 win over the Giants in their home opener (see breakdown).
• The smallest guy on the field was the biggest hero Sunday. Jake Elliott's 61-yard field goal on the final play of the game saved what could have been a disaster. Wide receiver Torrey Smith said, "We didn't even know he could kick it that far." Other players admitted they had hardly spoken to Elliott in the two weeks he's been here, but they would definitely go out of their way to exchange words with him in the future.
Philadelphia Eagles
Complete coverage of the Philadelphia Eagles and their NFL rivals from NBC Sports Philadelphia.
• Thirty-nine (39?!?!) rushing attempts in one game! The Birds had a grand total of 41 attempts in the first two games. The Giants came into this affair allowing 133.5 yards per game on the ground. The Eagles busted them up for 193. Wendell Smallwood told me, "We just knew where the holes would be after watching them on tape." Lane Johnson added, "We did a great job of mixing up our runs inside, outside, mix directions and delay runs."
• The Giants' trio of Odell Beckham Jr., Brandon Marshall and Sterling Shepard combined for 24 catches, 278 yards and three touchdowns. They killed the Eagles on slant routes. Considering how depleted the Eagles' secondary was, Jalen Mills said they wanted to keep everything in front of them. When I asked cornerback Patrick Robinson why they played Beckham so much in single coverage, he responded, "We didn't think he was that healthy, but in the second half, we found out otherwise."
• As if the Birds' defense wasn't banged up enough going into this game, they lost Fletcher Cox and Jordan Hicks along the way. Safety Rodney McLeod, who was a scratch for this game, told me he will be ready for Philip Rivers and the Chargers next week.
• Numerous players said they were proud of the way the team came together in unity in response to President Trump's comments. Alshon Jeffery told me, "It doesn't make a difference if you're black or white, we are all in this together."
Copyright CSNPhily