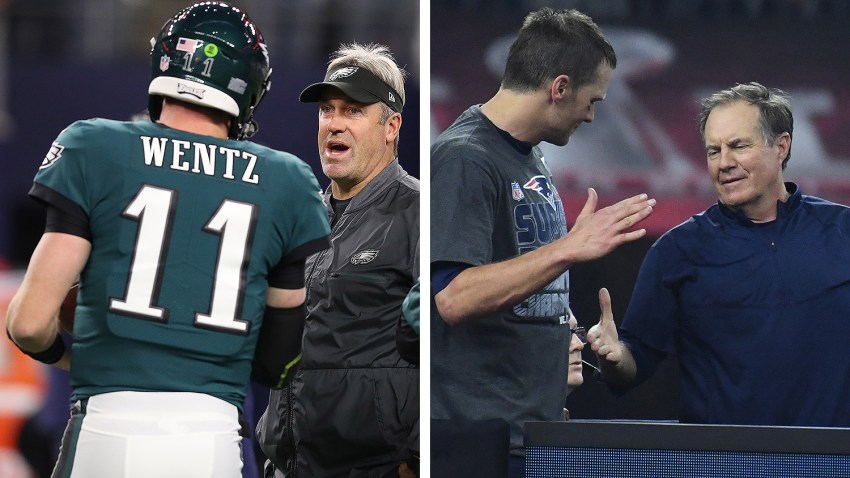 BLOOMINGTON, Minn. - Tom Brady and Bill Belichick have been together for 18 years now, reaching eight Super Bowls and winning five (so far).
This is Year 2 for Doug Pederson and Carson Wentz, and if they find a way to match Belichick and Brady's longevity, that would take us to … 2033?
Philadelphia Eagles
Complete coverage of the Philadelphia Eagles and their NFL rivals from NBC Sports Philadelphia.
Imagine Pederson and Wentz in Super Bowl 68 in February of 2034?
Pederson would be 66, and Wentz would be 41.
Today? Belichick is 65, and Brady is 40.
Pederson said Thursday he has daydreamed about himself and Wentz being together as long as Belichick and Brady. And being just as successful.
"Gosh, I'd love to, and even in some of the quiet moments, I try to envision that," Pederson said Thursday.
"In this league, if you have a quarterback and you do things right, and you surround him with talented players and coaches, then you can have a long career in the business and have the [kind of] success that those two gentlemen have had.
"A lot of respect for those two and what they've meant to this league, and obviously that's something that myself and Carson and the guys we have around him could possibly have in Philadelphia."
Belichick went 36-44 with the Browns from 1991 through 1995 in his first head coaching stint. He replaced Pete Carroll as head coach of the Patriots in 2000, and drafted Brady in the sixth round out of Michigan that spring.
From 2001 through 2017, once Drew Bledsoe was out of the way, the Patriots averaged 12½ wins per year, won 15 of 17 AFC East titles and reached eight Super Bowls, winning five.
Pederson and Wentz both came to the Eagles last year, Pederson replacing Chip Kelly and Wentz in the first round of the draft.
Belichick won his first Super Bowl in his second year, and now Pederson is trying to do the same thing.
The Eagles face the Patriots in Super Bowl LII Sunday at U.S. Bank Stadium in Minneapolis.
"When I first got here [in 2013], the first three years stability at the quarterback position was a revolving door," tight end Zach Ertz said. "There was no stability.
"So when Carson got drafted and Doug got brought in, it really set the table to ultimately strive for that kind of success.
"Obviously Tom and Bill have been doing this for a long time. The consistency they've been able to have is unheard of. This league is all about parity. There's a reason the best teams draft last in every round. Teams are supposed to go in cycles, but every year they win a lot of games and make the playoffs.
"As an organization, you have to strive for that kind of consistency. The way Doug and Carson are, this could be the closest thing to emulating that. I hope they're together a long time."
Wentz is hurt and not playing in this Super Bowl, but he's only 25 years old and had a record-setting second season before giving way to Nick Foles.
His 49 touchdowns are eighth most in NFL history by a quarterback in his first 29 games, and his 7,078 passing yards are 10th most. He was 11-2 in 13 starts this year and believes he'll be ready for opening day next fall.
Ertz said he can see comparisons between Brady and Belichick and Wentz and Pederson.
"People doubted Doug when he was brought in as a head coach, kind of similar to how Bill was doubted when he was brought in," he said.
"Tom and Carson had extremely different paths as far as where they were drafted but there's a lot of similarities. If you just look at the way they talk about football, the way they talk about the craft of football, how dedicated they are to the craft, they're extremely similar in that regard. Carson is an extremely bright football mind. He watches so much film, he studies so much.
"The Patriots have been to the Super Bowl eight out of 16 years now? That's incredible. But I think the [Eagles'] organization has built stability around Carson, too.
"We have a lot of guys locked up for a long time, a lot of guys playing at an extremely high level locked up for a long time. It's not going to have to be Carson carrying the Philadelphia Eagles, although at times he definitely does carry us."
Eighteen years is an awful long time for a head coach to stay in the same place and it's an eternity for a quarterback to play at a high level.
Andy Reid is the longest-tenured Eagles head coach with 14 years and Greasy Neale - who coached from 1941 through 1950 and won two NFL Championships - is next with 10 years.
Donovan McNabb, who replaced Pederson as the Eagles' quarterback midway through 1999, was the longest-running Eagles QB but only Ron Jaworski (eight), Norm Snead (seven) and Randall Cunningham (six) also quarterbacked the Eagles longer than four years.
So 18 years is an eternity.
"I have a lot of respect for that tandem, when you talk about Brady and Belichick," receier Nelson Agholor said. "But I also have a lot of love also for my head coach and my quarterback.
"I think they're two very special people who really love this game and have a lot of passion for what they do."
Can they be the next Belichick and Brady?
"I think the sky's the limit for both of them," Agholor said. "They can do whatever they put their mind to."
Copyright CSNPhily