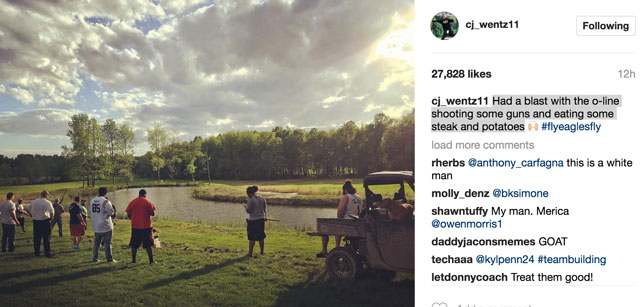 Philadelphia Eagles
Complete coverage of the Philadelphia Eagles and their NFL rivals from NBC Sports Philadelphia.
Carson Wentz had already purchased his offensive lineman guns for Christmas last season so it was only a matter of time before they all went out together to shoot some stuff.
Wentz posted a photo on Tuesday and said that day had finally come.
What, was Mike Trout busy playing baseball this time of year?
"Had a blast with the o-line shooting some guns and eating some steak and potatoes," Wentz wrote as a caption. He also included the
While Wentz had purchased gun locks for his guys in the past, he may want to teach them a little more gun safety. One guy in the photo appears to be on his cell phone while holding a gun.
Not a lot else to gleen from the photo other than the dudes spending some time together. That appears to be Isaac Seumalo on the truck. You can see a dog in the cab. And it appears Dillon Gordon is wearing a Dillon Gordon LSU jersey lol.
Never knew it was a problem to wear your own alma throwback jersey 🤔— Dillon Gordon🐂 (@IamDG_85) May 3, 2017
Copyright CSNPhily