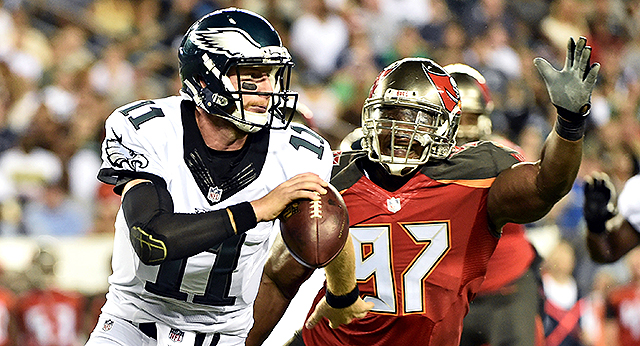 Carson Wentz's rookie season had plenty of ups and downs, but fans are buying in.
Literally.
Philadelphia Eagles
Complete coverage of the Philadelphia Eagles and their NFL rivals from NBC Sports Philadelphia.
According to the NFL Players Association, Wentz ranked fifth on their list of officially licensed player merchandise from March 1, 2016 through Nov. 30, 2016. Wentz is the only Eagle on the list.
On the list, which is the first to include part of the 2016 season, Wentz was behind just Tom Brady, Ezekiel Elliott, Dez Bryant and Odell Beckham Jr. He was just ahead of Russell Wilson, Aaron Rodgers, Dak Prescott, Rob Gronkowski and Cam Newton.
The NFC East is home to five of the top 10 players on the list and four of the top five.
Wentz was the No. 1 seller for player-identified caps from New Era and Lids and led sales of kids jerseys, fleece and t-shirts from Outerstuff. He was also No. 1 in pet jerseys sold by Fanatics.
Here's the entire list:
1. Tom Brady, QB, New England Patriots
2. Ezekiel Elliott, RB, Dallas Cowboys
3. Dez Bryant, WR, Dallas Cowboys
4. Odell Beckham Jr., WR, New York Giants
5. Carson Wentz, QB, Philadelphia Eagles
6. Russell Wilson, QB, Seattle Seahawks
7. Aaron Rodgers, QB, Green Bay Packers
8. Dak Prescott, QB, Dallas Cowboys
9. Rob Gronkowski, TE, New England Patriots
10. Cam Newton, QB, Carolina Panthers
11. Antonio Brown, WR, Pittsburgh Steelers
12. J.J. Watt, DE, Houston Texans
13. Jason Witten, TE, Dallas Cowboys
14. Tony Romo, QB, Dallas Cowboys
15. Von Miller, LB, Denver Broncos
16. Derek Carr, QB, Oakland Raiders
17. Todd Gurley, RB, Los Angeles Rams
18. Luke Kuechly, LB, Carolina Panthers
19. Amari Cooper, WR, Oakland Raiders
20. Khalil Mack, LB, Oakland Raiders
21. Richard Sherman, DB, Seattle Seahawks
22. Ben Roethlisberger, QB, Pittsburgh Steelers
23. Clay Matthews, LB, Green Bay Packers
24. Le'Veon Bell, RB, Pittsburgh Steelers
25. Jordy Nelson, WR, Green Bay Packers
26. Julian Edelman, WR, New England Patriots
27. Larry Fitzgerald, WR, Arizona Cardinals
28. Marcus Mariota, QB, Tennessee Titans
29. Drew Brees, QB, New Orleans Saints
30. Andrew Luck, QB, Indianapolis Colts
31. Julio Jones, WR, Atlanta Falcons
32. Eli Manning, QB, New York Giants
33. Navorro Bowman, LB, San Francisco 49ers
34. Teddy Bridgewater, QB, Minnesota Vikings
35. Jameis Winston, QB, Tampa Bay Buccaneers
36. DeAndre Hopkins, WR, Houston Texans
37. A.J. Green, WR, Cincinnati Bengals
38. Jared Goff, QB, Los Angeles Rams
39. Tyler Lockett, WR, Seattle Seahawks
40. Demaryius Thomas, WR, Denver Broncos
41. Harrison Smith, DB, Minnesota Vikings
42. Kirk Cousins, QB, Washington Redskins
43. Stefon Diggs, WR, Minnesota Vikings
44. Jarvis Landry, WR, Miami Dolphins
45. Brandon Marshall, WR, New York Jets
46. Alshon Jeffery, WR, Chicago Bears
47. Kam Chancellor, DB, Seattle Seahawks
48. Carlos Hyde, RB, San Francisco 49ers
49. Adrian Peterson, RB, Minnesota Vikings
50. Jimmy Graham, TE, Seattle Seahawks
Copyright CSNPhily