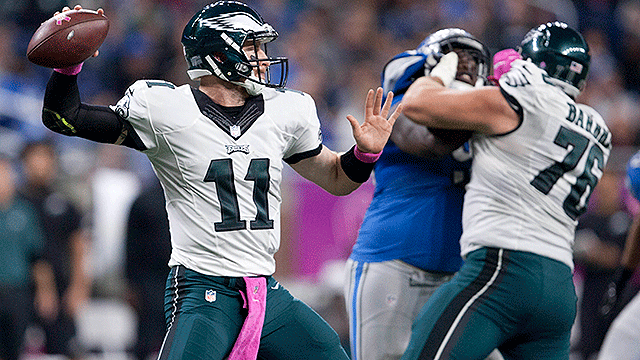 DETROIT — No, Carson Wentz was not perfect on Sunday afternoon, when he ended his fourth career game with his first career pick.
Philadelphia Eagles
Complete coverage of the Philadelphia Eagles and their NFL rivals from NBC Sports Philadelphia.
But he was really good.
During the Eagles' 24-23 loss to the Lions at Ford Field, they once trailed by 14 points and trailed by 11 at halftime. Even when they were down one with 1:28 left to go, the Eagles thought they had a chance ... because of Carson Wentz.
"A lot of confidence," said Nelson Agholor, who was the intended target on the interception. "When you have a quarterback with moxie like him, second to none, you know you have a chance. He's the first person to touch the football and he's a great football player. The rest of us have to make plays for him."
It looked like Wentz was on his way to a fourth straight win on Sunday despite the large deficit and despite 14 penalties, but Ryan Mathews coughed up the ball in a key moment and Wentz threw away the Eagles' last shot.
Still, the rookie was pretty good.
Wentz completed 25 of 33 passes for 238 yards, two touchdowns, an interception and a passer rating of 102.8.
"Exactly what I anticipated coming into the game," Lions linebacker Tahir Whitehead said. "He's a poised guy, he moves really well, he makes good decisions, he has a good grasp for their offense. He's a great player and I expect nothing but great games from him."
So far, great games are all we've really seen from Wentz.
Wentz is one of three players in NFL history to have over 1,000 yards passing, seven touchdowns and a passer rating over 100 in the first four games of a career. He's the only player in NFL history to do it with fewer than three interceptions.
And Wentz is the first rookie in Eagles history to have three games with a passer rating over 100.
"I thought we played OK, but we didn't finish," Wentz said. "That was the thing. In the second half offensively, we played OK, we moved the ball, we went down (the field), but we didn't make enough plays. The defense gave us the ball in the red zone and we had to settle for the field goal. Those are things we have to clean up. We want to execute on those drives. They made more plays than us."
After Sunday's game, Wentz seemed to be upbeat. He'll have to shake off his first professional loss quickly. The first division game, against Washington, is in less than a week.
Head coach Doug Pederson thinks his star rookie quarterback will be able to have a short-term memory in this situation.
Despite the loss, Pederson was impressed by Wentz, particularly when he created plays out of nothing like the one where he avoided pressure, rolled to his left and hit Jordan Matthews on the sideline with a bullet.
"It seems like when the pressure gets a little tighter, he shines a little brighter," Pederson said. "It's special to have a kid like that, especially as a rookie and somebody that we can continue to just keep grooming and teaching and rep after rep after rep. He just continues to get better and better.
"The beauty of the thing is that it elevates everybody around him and I've been around some great quarterbacks that have been able to do that over my career, and he's beginning to bring that out of other people."
Copyright CSNPhily