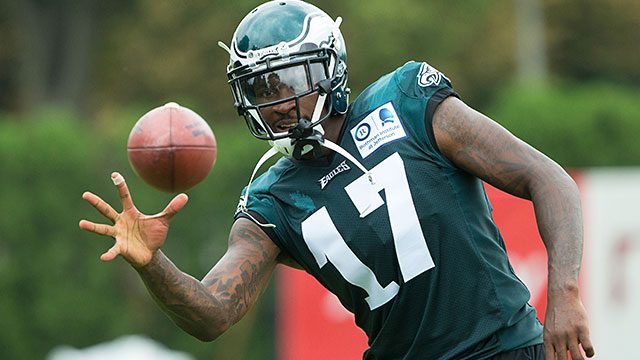 Carson Wentz didn't learn too much about Alshon Jeffery during the skill position players' trip to Wentz's home in Fargo, North Dakota that he didn't already know. He's "soft-spoken" but a "quiet competitor," Wentz said.
"What I really like is just getting to know him on the field and getting used to the way he gets in and out of breaks and the way he can go up and get a ball," Wentz said.
Philadelphia Eagles
Complete coverage of the Philadelphia Eagles and their NFL rivals from NBC Sports Philadelphia.
If Wentz didn't learn that last part in Fargo, he sure did Thursday during the Eagles' first full-team practice at the NovaCare Complex (see camp notes). Jeffery snagged a tough pass along the sideline that caught plenty of attention. It's the reason the team signed the 27-year-old wideout to a one-year, $14 million contract on the first day of free agency. It's what he must do to give the Eagles' offense the explosion it lacked last year.
The buzz term of the day was "catch radius." Jeffery stands at 6-3 and his wingspan surpasses 80 inches. He owns some mighty paws. Since 2013, his second season, his 14.9 yards per catch ranks third in the NFL, and only three players have more receptions of 25 yards or more.
He's a big target, and the Eagles brought him here to make big plays.
"I just tell [Wentz] throw it somewhere and give me a chance. If it's anywhere close, I think I have a good opportunity," Jeffery said.
"Having a guy like that really makes you play a lot more comfortably," Wentz said.
"You don't have to necessarily be pinpoint accurate down the field when you have a guy that can leap and high-point balls, and Alshon can do that," head coach Doug Pederson said.
Jeffery's body gives the offense, and Wentz in particular, some wiggle room. He does not need the perfect pass to make a catch.
That held true on one play during Thursday's "10-10-10" practice. The purpose of these practices is to run 10 offensive plays against a soft defense and then 10 defensive plays against a soft offense.
The full pads weren't on yet, and even Jeffery said his highlight play could've been better. Still, it was a sight to behold as the massive wide receiver went up high to snatch the ball out of the air along the sideline.
However, the day wasn't all flashy highlights. Jeffery dropped a pass in the flat, and he was one of the last guys to stay on the field for extra reps from the jugs machine.
There is work to be done, and he knows that.
"Everybody's got talent in the NFL, so we just gotta keep working," Jeffery said. "We just let the numbers and the stats take care of themselves."
Jeffery said his connection with Wentz is getting better every day, but he didn't want to anoint the new-look offense as this Super Bowl-deprived city's savior. Yes, there is more talent here, especially at his position, then there was this time last year. And the current roster is capable of doing "something special." Just not after one full-team practice.
"The sky's the limit for us," he said. "We just have to keep building."
That doesn't mean the team is without a win-now attitude, according to fellow receiver Jordan Matthews (more on him here), who said he's already seen a lot of hunger out on the field. But with the addition of Jeffery - and Torrey Smith, another deep threat, for that matter - are there enough passes to satisfy everyone's appetite? Matthews said that's not the way to look at it.
"If you go out there and see Torrey make a play, you see Alshon make a play, you're like, 'Well shoot, I better go out there and do something,'" Matthews said. "But that's a good thing."
Jeffery said that Matthews, the team's longest-tenured player at the position, is still the leader of the unit. He is the vocal one on the field, telling guys what to expect from the system and what to do on certain routes. Plus, he's even the most active in the group chats, Jeffery said.
That receiving corps' group chat has quite the different look compared to last season, and Jeffery is the biggest newcomer. What they'll have to discuss 16 regular-season games from now remains to be seen. For now, the talking must be done through their efforts on the field.
"[We are] working to try to be the best," Jeffery said. "Whatever it takes for us to win a championship."
Copyright CSNPhily