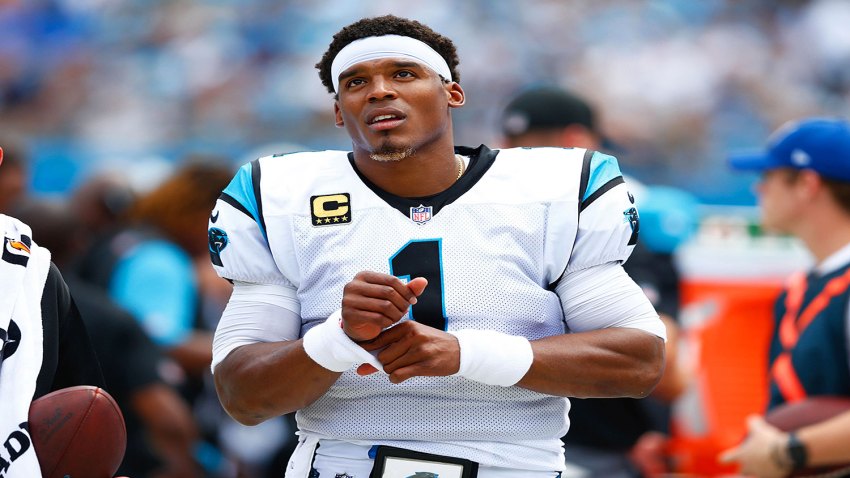 Cam Newton is no longer the two-way threat he used to be. It doesn't mean he's less dangerous. In reality, he's more dangerous than ever.
"He's not a one-trick pony," Eagles defensive coordinator Jim Schwartz said.
Newton, now in his seventh year with the Panthers, is completing 68.3 percent of his passes so far this year - far above the 58.4 percent figure he averaged coming into this season.
Philadelphia Eagles
Complete coverage of the Philadelphia Eagles and their NFL rivals from NBC Sports Philadelphia.
From 2011 through 2016, Newton ranked 34th in accuracy of 39 quarterbacks who threw at least 1,000 passes.
This year? Newton is fourth out of 32 qualifying QBs, behind only Alex Smith, Josh McCown and Drew Brees.
Conversely, after averaging 38 rushing yards per game and 5.2 yards per carry in his first six years, he's running for only 18 yards and 3.1 yards per carry so far this year.
Newton, a three-time Pro Bowler, a first-team All-Pro during the 2015 Super Bowl season, is more dangerous than ever because he can still run when he has to and he's very tough to bring down, but he's quietly developed into a big-time pocket passer.
"I think that the thing that you have to take into account is he can sit back there and rip it out of the pocket," Schwartz said. "This is not schoolyard football. He can sit back there and throw as pure as anybody in the NFL.
"But he also has the ability when it does break down to be able to create. So not only do you have to cover the timing of the route and the reception point of the route, but you do have to plaster [the receivers], and our [pass] rush needs to do a good job eliminating places so that he can step up.
"Our blitz needs to do a good job of putting him on the clock. And when we have opportunities, we've got to get him on the ground. That's easier said than done. There's a lot of people that have free runners, free people in the open field, and he has the ability to make guys miss. That's always been a skill set of his."
The Eagles have faced Newton three times over the years. He threw for 306 yards and two touchdowns in a 30-22 Panthers' win in 2012 at the Linc, then he threw for 306 yards again but with three interceptions in a 45-21 Panthers' loss to Mark Sanchez at the Linc in 2014. And in 2015, he threw three INTs again in a game the Eagles won 27-16 in Charlotte.
Newton makes his fourth career start against the Eagles at 8:30 p.m. Thursday when the Eagles and Panthers meet in a national TV game at Bank of America Stadium.
Both teams are 4-1. The Eagles are seeking their 10th start of 5-1 or better but only their third in the last 35 years (2004, 2014). They started 6-0 in 1981 and 2004. The Panthers have opened 5-1 or better twice and lost in the Super Bowl both times - in 2003 they started out 5-1 and went on to beat the Eagles in the NFC Championship Game. In 2015 they were 6-0 on their way to a 15-1 record.
Newton in each of the last two weeks has completed over 75 percent of his passes and thrown for 300 yards with three touchdowns, something he hadn't done once in 102 previous career starts.
He's only the 16th quarterback in NFL history to post those numbers in consecutive games.
How much has Newton grown as a passer? He has 14 times more passing yards this year (1,237) than rushing yards (90).
Coming into this season, he had six times more passing yards than rushing yards.
"He can be a pocket passer, he can run the read option, he can run designed runs, he can run off-schedule runs, but he's as good a pocket passer as there is," Schwartz said.
"So I think that's what make it's difficult - to defend every one of those. He's got mobility, he's got designed runs. They do a lot of different things and we'll have to play our best team defense."
Copyright CSNPhily