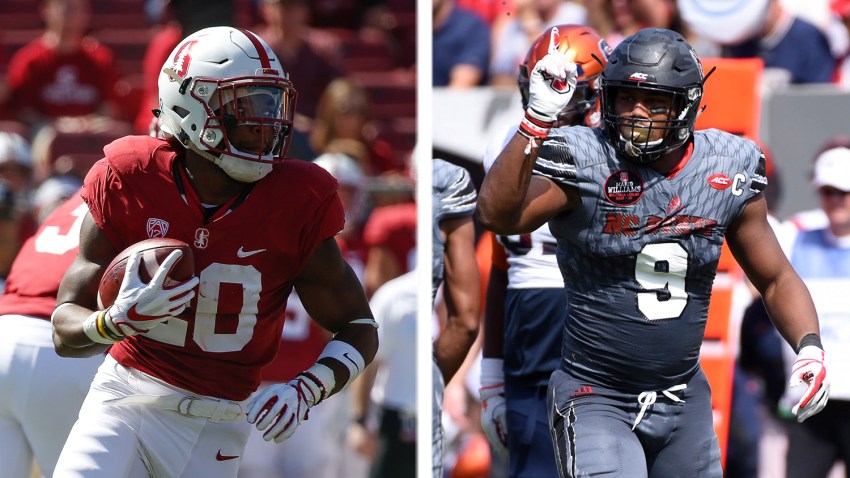 The Eagles are sitting pretty atop the NFC East at 3-1, but it's not too early to take a peek at the 2018 NFL draft class.
The team has shown decent depth at several positions so we'll just look at players that could fit the Eagles schematically.
Here are five players to keep your eye on this week.
Philadelphia Eagles
Complete coverage of the Philadelphia Eagles and their NFL rivals from NBC Sports Philadelphia.
No. 20 - Bryce Love, RB, Stanford, junior (5-10/196)
Love has been mentioned on this space more than once, but now he's on the national radar. The nation's leading rusher, Love has reached the 1,000-yard mark in 5(!) games. Coming off a 301-yard, three-TD performance against Arizona State, Love is averaging a ridiculous 11.1 yards per carry this season. He's not really featured in the passing game (two catches for five yards this season), but with his size, shiftiness and speed, he could be an extremely versatile weapon at the next level.
Stanford at No. 20 Utah, Saturday, 10:15 p.m. (FS1)
No. 8 - Dante Pettis, WR, Washington, senior (6-1/195)
Pettis had his breakout game of the season, hauling in 12 passes for 105 yards and three TDs in a win over Oregon State. But don't let that yards per catch fool you. Pettis is a big play receiver and punt returner. He already has three punt return scores this season. In fact, he's the first player in NCAA history to record a punt return TD in three straight games.
No. 6 Washington vs. Cal, Saturday, 10:45 p.m. (ESPN)
No. 9 - Bradley Chubb, DE, NC State, senior (6-4/275)
Simply put, Chubb is a beast. He recorded two sacks in a win over Syracuse a week after recording two sacks in a win over Florida State (he also didn't show much respect for the Seminoles' home turf). For the season Chubb has 5 1/2 sacks. Chubb is a disruptive force for the Wolfpack and should hear his name called in the first round come April.

No. 24 NC State vs. No. 17 Louisville, Thursday, 8 p.m. (ESPN)
No. 8 - Tegray Scales, LB, Indiana, senior (6-0/230)
The play that most will remember Scales being involved in Saturday is the ridiculous one-handed catch and run by Penn State RB Saquon Barkley. But in Scales' defense, I'm not sure Barkley is human. What you might not realize is that Scales recorded 11 tackles and three sacks in a losing effort. Scales is sort of reminiscent of Temple product Hasson Reddick. He's undersized for a pass rusher, but has the instincts necessary to play a traditional linebacker at the next level that can cause problems blitzing.
Indiana vs. Charleston Southern, Saturday, 3:30 p.m. (BTN)
No. 27 - Nick Chubb, RB, Georgia, senior (5-10/225)
Almost two years removed from a horrific knee injury, Chubb is starting to resemble the player that was brilliant in a 1,500-yard freshman season back in 2014. He carried the ball 16 times for 109 yards. He's had his load lessened with teammate Sony Michel -- who's worth keeping an eye on as well -- sharing some of the carries. The tandem have combined for 736 yards and nine touchdowns this season while both averaging over 5.4 yards per carry.
No. 5 Georgia at Vanderbilt, Saturday, 12 p.m. (ESPN)
Copyright CSNPhily